The 10 sets of love postures between Ji Sung and Choi Kang Hee in Protect the Boss have became the talking point.
Though the Protect the Boss that first broadcast on August 3rd, 2011 have closed its curtain on September 26th, 2011, the "boss disease" is still continuing on various community discussion forum, as many people is suffering withdrawal syndrome after following the drama for 2 months. At this situation, the publicity of 10 sets of love postures of Ji Sung and Choi Kang Hee has attracted netizens' attention.
Firstly, is the same bed in "fetal position" after the dramatic clash when secretary Eunsul had just met director of DN group Cha Ji Hun, where both of them started to change their impression to each other. And there is "surprise attack kiss" by Ji Sung to Choi Kang Hee.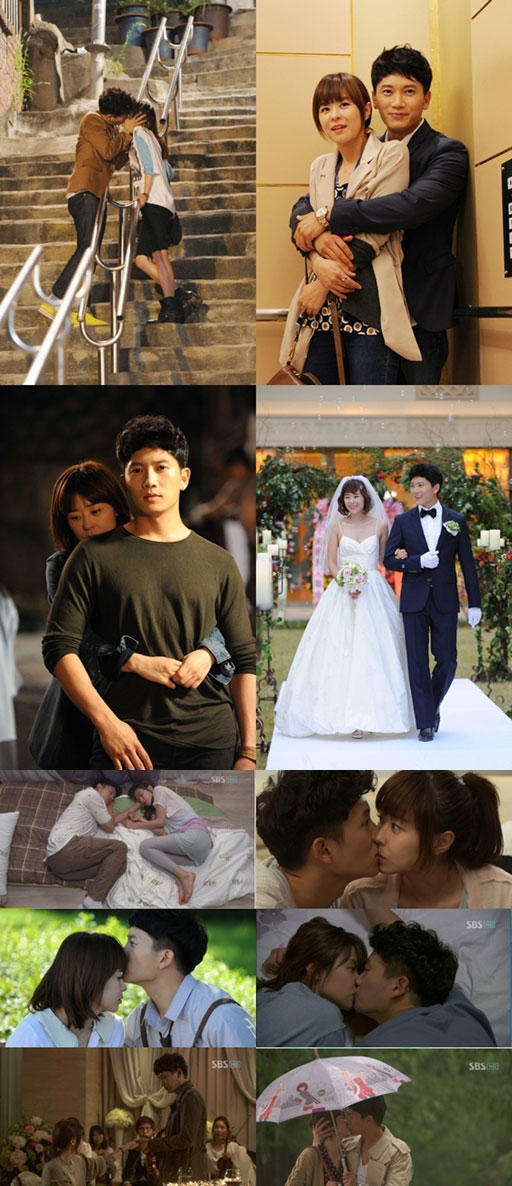 After twists and turns, the "railing kiss" at staircase by both person who decided to together when Kang Hee was on the way home. Later at the long chair outside the coffee shop where Ji Sung worked, Ji Sung gave a "forehead kiss" to Choi Kang Hee who was looking for her own forehead.
As time goes by, their relationship becomes mature, Ji Hun attempted to hug Choi Kang Hee in the elevator of the company, then when inspecting subsidiary, another beautiful kiss on the bed, which also reiterated the heart to each other.
But, the heart of Choi Kang Hee to Ji Sung started to waver after unintentionally saw the secret account of DN group. Ji Sung who was in tears attempted to hug painfully. After the incident, they drifted part, until the last episode, Ji Sung sang to Choi Kang Hee, and successfully proposed to her. Finally they get married.
Last but not least, at the end of the show, both of them kissed as in "umbrella kiss" on an alley while holding an umbrella, declaring a happy ending.
The production crew said, "the hero and heroine of Protect the Boss Ji Sung and Choi Kang Hee have had very tacit understanding since the start of the play up, and thus the kiss and hug between them also touched the heart of the audience." "Want to express gratitude to viewers who always tuned to watch Protect the Boss, meanwhile at the meantime, the "boss headache sickness" is expected to continue."
via SBS