How is the ending of SBS TV's A Thousand Days' Promise which has broadcast half of its episodes is going to develop, has attracting the attention and discussion of viewers.
With the 12th episode broadcast on November 22th, 2011, the 20-episode TV series A Thousand Days' Promise has broadcast 60% of its content.
In the episode 12, Ji Hyung (played by Kim Rae Won) who decided to marry with Seo Yeon (played by Soo Ae), is carrying fruits and snacks to pay a visit to the home of Seo Yeon despite family objection. The aunt develops mixed feelings after seeing that Seo Yeon is going to marry, and gets to meet Ji Hyung, causing her to shed tears of joy. Aunt said with tears, "Grow up so difficult, finally meets with suitable people, you must live properly, my kid," showing her dear love for Seo Yeon, which also revealed the complex feelings of Seo Yeon who lost her father and abandoned by her mother.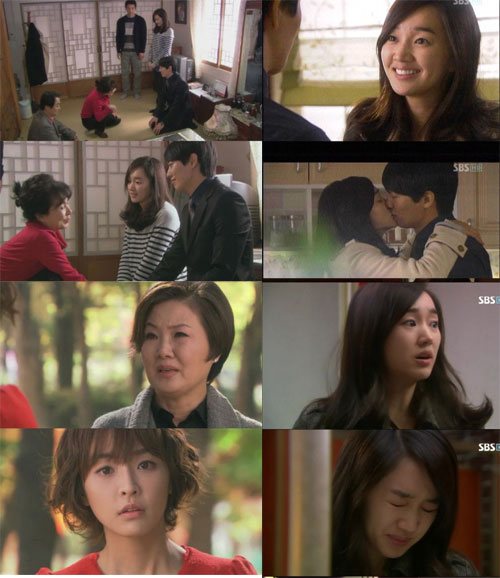 Ji Hyung officially requests, "I will take good care of Seo Yeon, please pass Seo Yeon to me." The aunt agrees to the marriage holding back tears. Seo Yeon who eventually regains sense of happiness in the despair of life said to Ji Hyung, "I want to say before I forget, I love you, sorry, thank you."
On the other hand, Hyang Ki knew from Ji Hyung's mother that news that Ji Hyung is going to marry, dropping the tears of shock and sadness.
At the end of the episode, the amnesia symptom of Seo Yeon is getting worse, she who just started to have hope is forced to stand on the edge of hopelessness.
The script of the drama is currently wrote till episode 16, subsequent script will center around Ji Hyung, describing the the past love and non-betrayal of Ji Hyung to Seo Yeon. And whether the drama series A Thousand Days' Promise which ends on episode 20 can bring a satisfactory ending to viewers with a reasonable development, is worth the wait to see what's happening.