The member of K-pop boy band 2AM, Jo Kwon, Jun Junwoon, Im Seulong and Lee Changmin guest starred in MBC TV talk show Golden Fishery: Radio Star broadcast on March 7th, 2012, displaying their eloquence. In the show, 2AM member Jung Jinwoon revealed his prominent family background and luxury home.
The MC asked Jung Jinwoon, "Heard that you live in 100 pyong (330 sqm) luxury home in Cheongdam-dong, and also has a separate band practice room, is it true?" Jung Jinwoon said, "My house used to be the dormitory for After School girl group, so there is some space."
Then, the host asked about his parents' occupation, Jung Jinwoon said, "My father is the CEO of the company. My mother operates a renovation company," revealing the prominent family background. In particular, when asked about the address of Jung Jinwoon's father, he said, "It's the beside the street between Seolleung Station and Samseong station." The area is well-known golden zone in South Korea.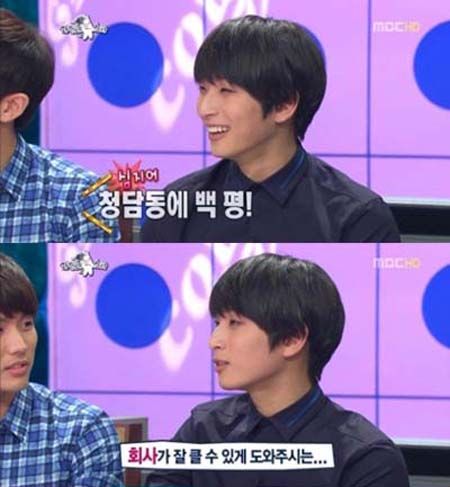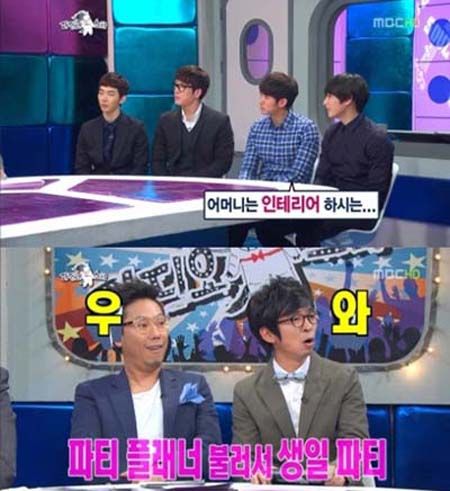 Im Seulong beside added, "He is really pampered since childhood, the 21-year-old's birthday party was designed and planned by specialist. Stars also sent congratulatory video."
Neitzens commented after watching the show, "Family background of Jung Jinwoon is pretty good," "Even employed a planner to organize birthday party, indeed very pampered," "So envy" and so on.
via TVDaily