The secret of Kim Soo Hyun revealed. In the tvN variety show eNews broadcast on March 15th, 2012, the hero of "Hwonie syndrome" was invited as the guest star. In the program, the excellent eloquence and impressive talent of Kim Soo Hyun are making people sighs in admiration, but the most notable is secret of Kim Soo-hyun's distinctive body.
During this time, Kim Soo Hyun is showing majestic man charm by playing the role of king Lee Hwon in The Moon that Embraces the Sun, especially his superior attitude has become a hot topic. As his face is too small, the tiny face could be covered by a CD. And the ikseongwan (king's headdress) in The Moon that Embraces the Sun was custom made by the producer.
The eNews confirmed that circumference of ilseongwan wore by Kim Soo Hyun is 57cm. Normally the hat wore by men with 60cm perimeter is already considered small, and this fully explained how small is the head of Kim Soo Hyun. And the height of Kim Soo Hyun was also made public. When asked if his height is 180cm, Kim Soo Hyun answered, "180.1cm to be exact," he continued, "Although I am not considered as short, and does not require height increase pad, but when acting opposite with senior actor Song Jae Hee who plays the role of Heo Yeom, I afraid I still need one," provoking laughter.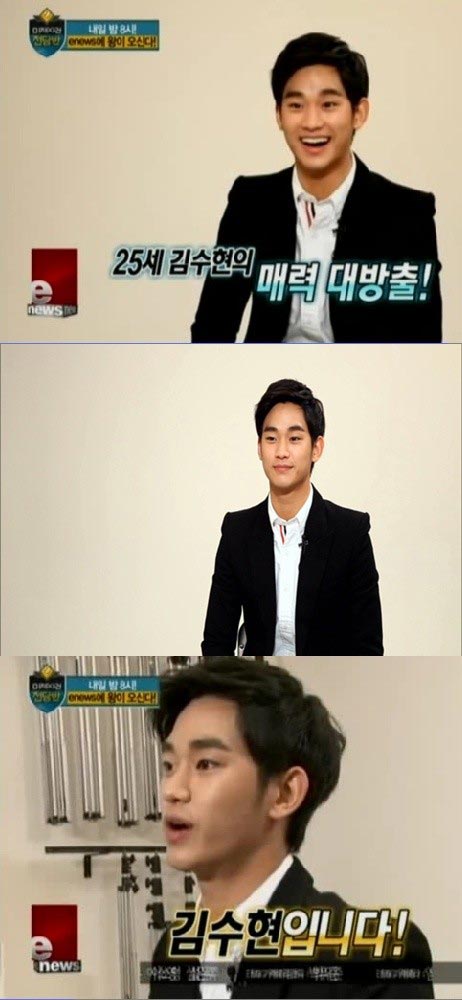 Lastly Kim Soo Hyun said he has a habit to bend the little finger when doing anything. Kim Soo Hyun is the only son of the family, the blood type is AB, and the hair is curly as publicly known. Many has heard about his committed enthusiasm when playing right-hander in TV series due to the fact that he is a left-hander. During the show, he actually uses left hand to carry things, and when signing, he also slightly lifted his left little finger, looked very cute.
After watching eNews' interview, fans of Kim Soo Hyun said, "Should be very tired, but still answer honestly and tirelessly," "Kim Soo Hyun is handsome," "Really cute," "Can see the charm of straightforward and pleasant Kim Soo Hyun" and so on.

On the other hand, The Moon that Embraces the Sun which ended on March 15th, 2012 held its celebration party on 63 City in Seoul on March 16th, 2012, while after than Kim Soo Hyun will be busy with various CF shooting, interviews, and pictorials shooting.
via Nate