Chun Jung Myung and Park Min Young meet sorrowfully in front of bus stop, and start the binding fate between them. weep
On the Glory Jane episode 3 aired on October 19th, 2011, Chun Jung Myung is looking at weeping Park Min Young who stand in front of bus stop in a pitiful scene of the two youthful person.
The Park Min Young's tears that fall endlessly is even stronger than the rain, and Chun Jung Myung who looks at her with sorrow unfolds the twist and turn story of both person, intensifying the curiosity of audience.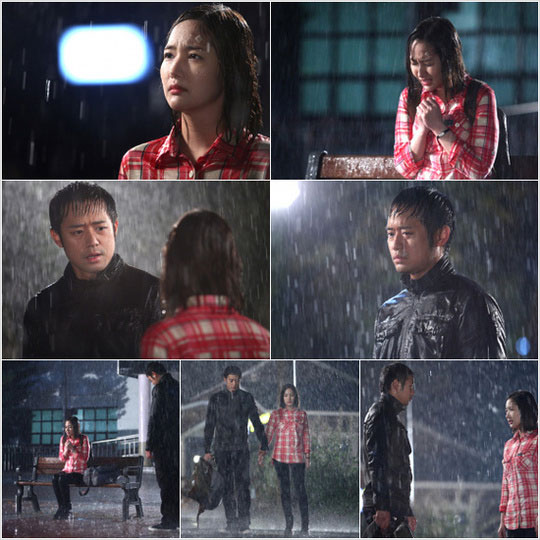 The scene was shot Chungcheongbuk-do province on October 10th, 2011. Chun Jung Myung and Park Min Young endured the cold night which approached 0 degree Celsius and more than 3 hours of waterspout to film the scene. To create realistic rainstorm, a large sprinkler vehicle was been spraying more than 5 tons of water on their bodies. But they managed to complete the scene perfectly despite the intense storm as if they couldn't see the rainstorm.
Especially for Park Min Young, as wanted to film a sobbing scene, so she had to cry stronger than usual. But Park Min Young sits calmly, and managed to grab the feeling in a matter of seconds. Not even with one NG, director had said OK, and received "she is an excellent actress" compliment.
In order to improve the completeness of the scene, even Chun Jung Myung and Park Min Young who were in the cold showed their passionate will of fighting, and it's reported that the atmosphere of filming set turned into deafening silence.
The production team said, "Chun Jung Myung and Park Min Young are putting all their effort into filming, showing the fantastic breath of 'gifted and talented couple'." Continuing, "They shot tirelessly, but they didn't care and perfectly portrayed characters Kim Young Kwang and Yoon Jae In, drawing grasp."
via Osen