A Thousand Days' Promise ultimately comes to an end as Soo Ae left this world.
In the final episode of A Thousand Days' Promise broadcast on December 20th, 2011, the drama ends with a sad ending after Seo Yeon passed away, but Ji Hyung still misses her.
In the episode of the day, the dementia condition of Seo Yeon deteriorated sharply. The situation is known only by his aunt and himself, not even his other family members understand that situation, and also don't know that he has married and has a child.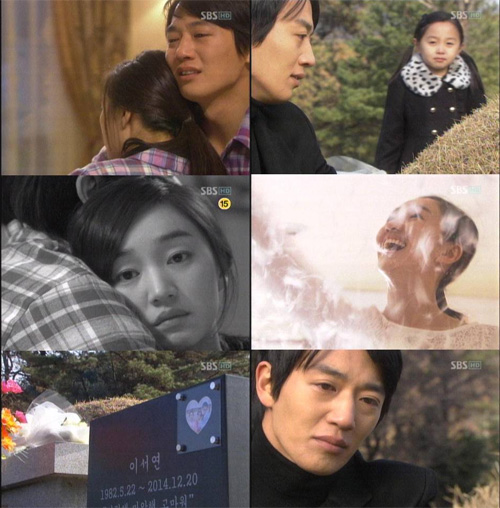 Ji Hyung said, "Now all the men are uncle, and all women are aunt. The only one remaining is Moon Kwon. I have a long time don't know who is myself."
Ji Hyung's father said, "Until when you want to be like this. It's already the eleventh hour, don't be suffering." But Ji Hyung said, "No matter how she is mine, is the mother of the child, I can't pass her to others."
As the result, Seo Yeon is taken care by Ji Hyung dedicatedly until the end. As time goes by, Ji Hyung and daughter found the tomb of Seo Yeon, depicting the death of Seo Yeon.
Ji Hyung said in front of the tomb, "Yi Eun is coming," "I, I miss you," depicting his missing of Seo Yeon.
The successor drama series Salaryman is slated to premiere on January 2nd, 2012.