In the first premiere episode of new MBC Wednesday and Thursday drama series The King 2 Hearts broadcast on March 21st, 2012, Lee Jae Ha who is a prince but does not want to be the king, shows his side fiddling around eloquence, and the weakness to woman.
Intially many audience has held the altitude of "Can he fit?" on the acting by Lee Seung Gi as a prince wearing the uniform. At the same time, there was a lot of worries on "Lee Seung Gi? Acting in such a sensitive and difficult role?"
But, in today's premiere, Lee Seung Gi dispelled all worry, and at the same time, critically acclaimed, and indeed once again locking the vision of audience.
In the premiere debut of the drama, although Lee Jae ha has the identity of the king, but he still joined the army (actually was been forced), and participated in biological warfare training, causing his tears and nasal mucus to flow nonstop. And he also demonstrated the personality of doing as what he wishes without hesitation by using his position.
But for the accusation of "royal family is spending the tax money of citizens to eat, drink and play," Lee Jae Ha said, "We're the official puppet. We just need to fill up their fantasy. Need not to do anything, just need to show our look with smile and gentlemanliness," having an angle of view on reality that is more objective than anyone else.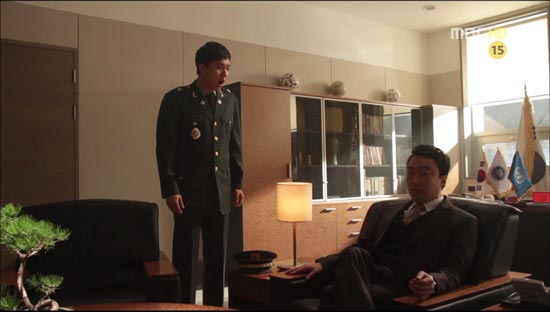 Fiddling around, eloquent, arrogant yet full of sense of mischievous, the colorful performance of Lee Seung Gi is critically acclaimed and praised by audience.
Netizens commented, "The acting of Lee Seung Gi is so good? So easy can be so handsome?" "Victory," "It's great, now live telecast will tune to The King," and so on.
What spark will Lee Seung Gi who shown no weakness in acting beginning in episode 1 ignite with North Korean Special Forces instructor Kim Hang Ah played by Han Ji Won? The audience is looking forward to it more keenly than anytime else.
via Nate