In episode 12 of MBC's "The King 2 Hearts" broadcast on April 26th, 2012, Ha Ji Won is staging intense action scenes such as split kicking, hanging on wire, dropping from rooftop, demonstrating her action scene talent once again.
In the series so far, Ha Ji Won who is North Korean Special Force instructor is showing mre of the elegance of been crown princess for South Korean royal family, and is full of feminine charm. In episode 12, she is transforming, showcasing the charisma of a warrior through various gorgeous action scenes.
In the still cuts released, various high difficulty. 90 degree split kicking to pin North Korean female solder to wall shows the good endurance of Ha Ji Won. And the scenes of jumping off rooftop easily and descending from high attitude via wire relaxing shows the skills of Ha Ji Won's martial arts talent.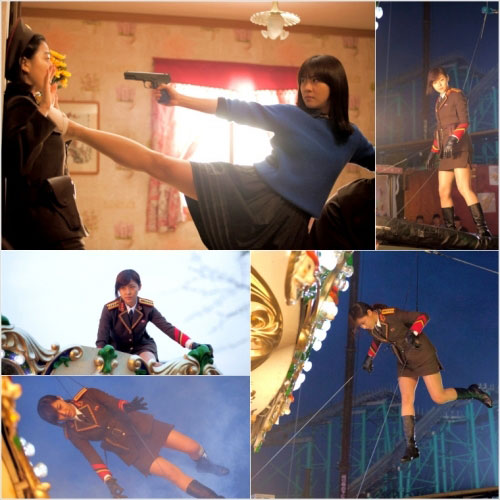 The scenes were shot at an amusement park in Gyeongju on April 14th, 2012. In order to perfectly portray the action scenes, Ha Ji Won shot for over 8 hours. And she also completed all the scenes with strength and determination that are not second to male actors without fear or anxiousness.
The producer said, "As an actress, Ha Ji Won perfectly completed the action scenes with high level of difficulty. Apart from action scenes, she also perfectly the ups and downs of Kim Hang Ah's emotions that are complicated. Hope everybody can pay even more attention to excellent performance by her."