The 30-year-old of Han Ga In has begun. Han Ga In has received explosive welcome due to drama series The Moon that Embraces the Sun, ushering in the peak in her debut of ten years. Because of the praise for the role of Yeon Woo, there are many requests for interview during these period. On mid March 2012, Joongang Ilbo interviewed her. As an actress, the highest happiness is to her own representative work more than anything else. And the response for the movie Architecture 101 which premiered on March 22nd, 2012 is also very enthusiastic. Because of the role of Seo Yeon, she successfully links with her representative work in 2004, Once Upon a Time in High School.
– What's your thoughts after the end of The Moon that Embraces the Sun?
"Receive a lot of love. The cast members and crew members worked hard to produce good result. I feel proud. Of course there was also parts that were regretful."
– Controversy on acting in the beginning
"It's hard. But have to accept this is part of life. Whether it's praise or criticism, I readily live with it no matter when. Will get hurt by personal attack accusations, but also fully accept reasonable criticism."
– The resembling of your eyes with Thomas the Tank Train has become a topic, have you seen it?
"Saw it. The first time I seen it I still said what's it while clung to th belly laughing. Really seemed to very similar to me. My brother privately gave a lot of care, he jokingly said, 'Sister, please pop your eyes.' But what can I do. This is my look…"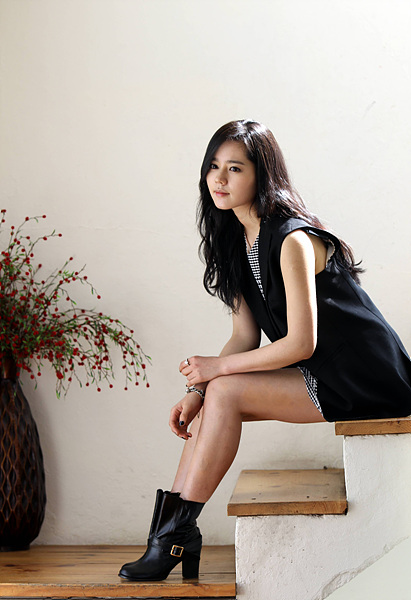 – What's the scene that you would personally remember?
"In episode 19, when Seol (Yoon Seung Ah) died. On the even of shooting, Yoon Seung Ah called and said, 'Sister I'm dying,' and tears poured out. She said, 'Make sure you say hello before I died.' It looked like a joke, but it was really sad. And also the scene of reunion with mother and emotion when at the father's grave."
-It's said that you're suffering from forced march of last minute shooting.
"Most suffered (tortured) was 3 to 4 days did not wash. The trouble on the face was certainly no joke. At times I was too sleepy, so I just slept on haystack. I originally have the habit of sleeping with eyes half-open when tired. FD woke me up trying to talk to me."
– Architecture 101 is also a hit movie
"The father, mother, grandmother, Yeon Jung Hoon and other family members have come to support. Mother still amazed at my acting. Yeon JUng Hoon felt like his heart was blocked. As a thirty-year-old actress, I feel similarity in a lot of parts."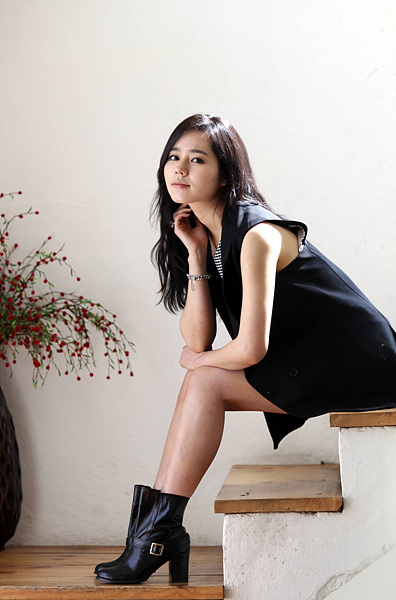 – "Hug the moon the sun" and the "Architecture Introduction to representative works, is not there to prepare 2nd generation
Plan?
– The scene of first love but suddenly scolding left a deep impression.
"The first time encountering four-letter words since debut. Don't use it in daily life, it's even more… to me, it's like a new homework. How does it should be expressed in the shooting has brought a great burden. Shot different takes. But surprisingly I like these."
– Because The Moon that Embraces the Sun and Architecture 101 have become representative masterpieces, have you planned to have 2nd generation?
"I said on the press conference of The Moon that Embraces the Sun that I will have plan for 2nd generation after having a representative masterpiece. I would love to do son, but now it seems like I cannot keep to my commitment. After The Moon that Embraces the Sun, my desire for work is even bigger. I thought of devoting more time into acting. In fact, I married early. Among my friends, 9 out of 10 still haven't married. The plan of 2nd generation has to push further back for 2 to 3 years.
– April 26, 2012 is 7th wedding anniversary. Any celebration for anniversary.
"I do not know yet. Both persons is busy with filming, and rarely meet. But on anniversary every year, Yeon Jung Hoon will send a surprise gift. Rather I don't pay much attention. Last year's anniversary, Yeon Jung Hoon gifted a large bouquet of flowers as anniversary gift, and said, 'Congratulations,' at the moment, I was at loss as I forget about it.
– Quarrel between husband and wife.
"If say no, it may be a lie, but almost none… When angry, husband will know why I get angry, and resolve it with good understanding."
– Houseworks handled by housewife in 7 years.
"Personally does almost all the houseworks. Tend to do it yourself rather than get help. Also does most of the account management.
– To secret to maintain the shape.
"Learn ballet from a year ago. Then recently, starting with modern dance and exercise. In the past, I almost never exercise, but now with modern dance, the acting also get more energy."
via Joongang Ilbo