In the episode 10 of The Moon that Embraces the Sun, the whimper of Kim Soo Hyun and the tears of Jung Il Woo attracted the audience, with the unfolding of plot, audience is keeping an even watchful eye to whether Kim Soo Hyun and Jung Il Woo can recognize Han Ga In.
In the episode 10 the MBC Wednesday and Thursday drama The Moon that Embrace the Sun broadcast on February 2nd, 2012, Hwon (Kim Soo Hyun) and Yang Myung (Jung Il Woo) is feeling the traces of Yeon Woo on Wol (Han Ga In).
On the day's program, Wol is very confused. Hwon and Wol go for a walk, coming past the past residence of Yeon Woo in the palace, Wol is once again reminded of the memory of the past, and asks Hwon, "Is it you the person who was crying here?"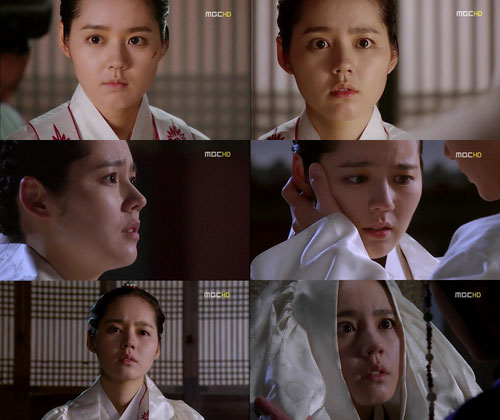 The words of Wol alarmed Hwon, but both of them still does not recognize each other, but Wol does feel the pain felt by Hwon because of Yeon Woo, and she personally has a feeling of cannot refuse the destiny.
Yang Myung expresses that it's his mistake for not running away with Yeon Woo when young, then Yang Myung meets with female shamen Jan Shil (Bae Noo Ri), and learned that Wol is the present of Yeon Woo.
Hwon receives the letter by Yeon Woo before her death from her elder brother Heo Yeom (Song Jae Hee), and is sobbing due to the written content. But he suddenly discovers that the writing style of Yeon Woo is very similar to Wol, is very surprised, and deepens his suspicion that Wol and Yeon Woo is the same person. Hwon immediately asks people to look for Wol, letting the drama to reach the heightened tension and dramatic climax.
After the broadcast, viewers commented on the TV series bulletin board and various public websites, "Hurriedly come back the memory the Han Ga In," "Yang Myung and Hwon have been waiting for this moment, finally want to identify the identity of Wol," "Feel heartache for the fated love between Wol, Hwon and Yang Myung" and so on, the responses are a great variety.
In addition, with the change in the plot development, "The Moon that Embraces the Sun" will usher in the love triangle between Hwon, Yang Myung and Wol on episode 11.
via Chosun