SBS TV series Rooftop Prince ascended the throne in the viewership ratings war among Wednesday and Thursday drama by taking the first position.
Premiered on March 21 this year, the ratings of Rooftop Prince have been on the rise consistently, and it finally clinches the title of champion for Wednesday and Thursday drama. When Rooftop Prince scored the viewership rating of 9.8 of its debut episode 1, the ground was somewhat shaken.
In contrast, the competing drama The King 2 Hearts recorded an astonishing 16.2% rating in its first episode to inherit intact the popularity of The Moon that Embraces the Sun. In the first episode, the gap was 6.4%.
However, from episode 2, with unique funny plot of Rooftop Prince is staged, given hope to recovery. Later Rooftop Prince has repetitively created several talking points, and the viewership ratings have continued to rise. In the 6 episodes after the premiere, the ratings of Rooftop Prince have shown frightening upward trend.
After 6 episodes, Rooftop prince finally stands up among other competing dramas to take the crown of Wednesday and Thursday drama.An official related to TV station said, "The dramas of three major TV stations that broadcast at the same time slot have been engaging in bitter fight, but to close the gap of nearly 7% in just 6 episodes is very surprising. In this situation, the strong momentum of Rooftop Prince is likely to continue."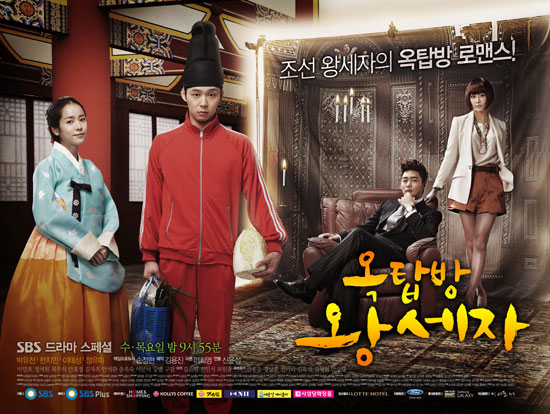 In the telephone call with SBS on the morning of April 6th, 2012, the screenplay writer of Rooftop Prince, Lee Hee Myung, expressed his thought on ranking first, "A lot of peole has given support, letting me felt pressure, but I am very thankful and full of gratitude. Thank you."
Park Ha (Han Ji Min) in Rooftop Prince gradually recovers her childhood memories, and the plot is becoming increasingly tension, together with the unfolding of life of crown prince and the confidant trio in the company, the viewership ratings are expected to continue to rise.
via Nate