The second OST of SBS drama series Salaryman Cho Han Ji (History of Salaryman) is named with the title of Bravo. The song of Bravo is released on January 3rd, 2012. The original sound track is sang by Lee Teuk (이특), the leader of Super Junior (슈퍼주니어) and Key (키), a member of SHINee (샤이니).
Lee Teuk has personally announced the OST ahead of official release by tweeting on his Twitter on January 3rd, 2012, "Salaryman Chohanji's OST… with SHINee Key. Really, it came out in one day".
Bravo is a refreshing track that encourages listeners to overcome all difficulties and obstacles on their way to fulfill their dreams.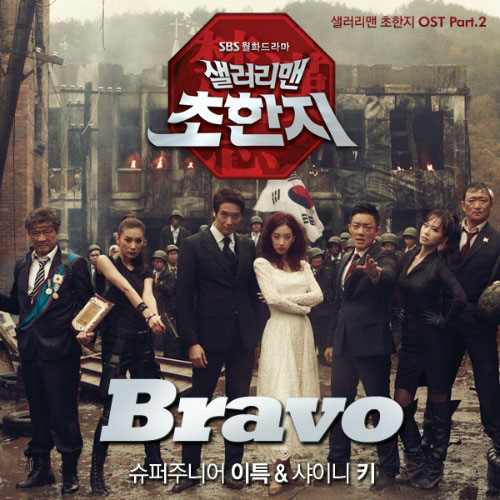 Salaryman Chohanji (샐러리맨 초한지) OST Part 2 Track List
Bravo – Lee Teuk & Key
Bravo – Instrumental
Listen to Bravo at YouTube.
Bravo Lyric (with Romanization Pronunciation)
펼쳐봐 네 꿈의 날개 더 높이 날 수 있게
pyeolchyeobwa ne kkum-ui nalgae deo nop-i nal su issge
(인생은 타타타 간다 으랏차차)
(insaeng-eun tatata ganda eulaschacha)
그려봐 내일의 꿈 더 크게 볼 수 있게
geulyeobwa naeil-ui kkum deo keuge bol su issge
(인생은 타타타 간다 으랏차차)
(insaeng-eun tatata ganda eulaschacha)
이러쿵저러쿵 날 비웃고 씹어봐라
ileokungjeoleokung nal biusgo ssib-eobwala
가진건 배짱만 난 난 난
gajingeon baejjangman nan nan nan
아파도 다쳐도 네가 있어 행복하다
apado dachyeodo nega iss-eo haengboghada
상처는 또 아문다 다 다
sangcheoneun tto amunda da da
머지않아 열릴거야 빛나는 내가 주인공이 될거야
meojianh-a yeollilgeoya bichnaneun naega ju-ingong-i doelgeoya
눈 앞에 펼쳐질거야 나만의 전성시대
nun ap-e pyeolchyeojilgeoya naman-ui jeonseongsidae
끝까지 달려간다 Do I Do 저 멀리 꿈을 쫓아간다 Do I Do
kkeutkkaji dallyeoganda Do I Do jeo meolli kkum-eul jjoch-aganda Do I Do
멈춰서진 않아 난 돌아보지 않아 난
meomchwoseojin anh-a nan dol-aboji anh-a nan
두근두근 뛰는 내 가슴 안고 Bravo my life
dugeundugeun ttwineun nae gaseum ango Bravo my life
펼쳐봐 네 꿈의 날개 더 높이 날 수 있게
pyeolchyeobwa ne kkum-ui nalgae deo nop-i nal su issge
(인생은 타타타 간다 으랏차차)
(insaeng-eun tatata ganda eulaschacha)
그려봐 내일의 꿈 더 크게 볼 수 있게
geulyeobwa naeil-ui kkum deo keuge bol su issge
(인생은 타타타 간다 으랏차차)
(insaeng-eun tatata ganda eulaschacha)
이제껏 살아온 날들보다 더 소중한
ijekkeos sal-aon naldeulboda deo sojunghan
내 곁엔 니가 있다 다 다
nae gyeot-en niga issda da da
이젠 겁 없이 온몸을 던져 부딪혀봐
ijen geob eobs-i onmom-eul deonjyeo budijhyeobwa
상처는 곧 아문다 다 다
sangcheoneun god amunda da da
머지않아 열릴거야 빛나는 내가 주인공이 될거야
meojianh-a yeollilgeoya bichnaneun naega ju-ingong-i doelgeoya
눈 앞에 펼쳐질거야 나만의 전성시대
nun ap-e pyeolchyeojilgeoya naman-ui jeonseongsidae
끝까지 달려간다 Do I Do 저 멀리 꿈을 쫓아간다 Do I Do
kkeutkkaji dallyeoganda Do I Do jeo meolli kkum-eul jjoch-aganda Do I Do
멈춰서진 않아 난 돌아보지 않아 난
meomchwoseojin anh-a nan dol-aboji anh-a nan
두근두근 뛰는 내 가슴 안고 Bravo my life
dugeundugeun ttwineun nae gaseum ango Bravo my life
(Rap)
시작해봐 Another round round
sijaghaebwa Another round round
겁먹지마 시작이 반
geobmeogjima sijag-i ban
끝까지 달려 한걸음 더 펀치를 날려
kkeutkkaji dallyeo hangeol-eum deo peonchileul nallyeo
저 하늘 위로 Higher 내 사랑을 위하여
jeo haneul wilo Higher nae salang-eul wihayeo
너에게 달려간다 Do I Do 널 향해 내 가슴이 뛴다 Do I Do
neoege dallyeoganda Do I Do neol hyanghae nae gaseum-i ttwinda Do I Do
멈춰서진 않아 난 돌아보지 않아 난
meomchwoseojin anh-a nan dol-aboji anh-a nan
불꽃처럼 뜨거워 Never let me down
bulkkochcheoleom tteugeowo Never let me down
끝까지 달려간다 Do I Do 저 멀리 꿈을 쫓아간다 Do I Do
kkeutkkaji dallyeoganda Do I Do jeo meolli kkum-eul jjoch-aganda Do I Do
멈춰서진 않아 난 돌아보지 않아 난
meomchwoseojin anh-a nan dol-aboji anh-a nan
두근두근 뛰는 내 가슴 안고 Bravo my life
dugeundugeun ttwineun nae gaseum ango Bravo my life
펼쳐봐 네 꿈의 날개 더 높이 날 수 있게
pyeolchyeobwa ne kkum-ui nalgae deo nop-i nal su issge
(인생은 타타타 간다 으랏차차)
(insaeng-eun tatata ganda eulaschacha)
그려봐 내일의 꿈 더 크게 볼 수 있게
geulyeobwa naeil-ui kkum deo keuge bol su issge
(인생은 타타타 간다 으랏차차)
(insaeng-eun tatata ganda eulaschacha)
Bravo Lyric English Translation
Spread the wings of your dreams so that you can fly higher
(Life, cheers, let's go, move forward)
Draw the dreams of tomorrow so you can see it bigger
(Life, cheers, let's go, move forward)
No matter how you laugh and ridicule me
The only thing I have are courage
Even if I'm hurt or in pain, I'm happy because I have you
Scars will heal instantly
Soon it will be unfolded, the shining me will become a hero
The golden era that belongs to me myself, will blossom before my eyes
I will run to the end (Do I Do) Chasing after the far away dreams (Do I Do)
I won't stop, I won't look back
Embrace my pounding heart, bravo my life
Spread the wings of your dreams so that you can fly higher
(Life, cheers, let's go, move forward)
Draw the dreams of tomorrow so you can see it bigger
(Life, cheers, let's go, move forward)
More precious than all the days that I have lived
Is you who is by my side
Now I will fearlessly uses my whole strength to dash forward
Because scars will heal soon
Soon it will be unfolded, the shining me will become a hero
The golden era that belongs to me myself, will blossom before my eyes
I will run to the end (Do I Do) Chasing after the far away dreams (Do I Do)
I won't stop, I won't look back
Embrace my pounding heart, bravo my life
Let's start another round round
Don't be scared, well began is half done
Run till the end, punch the fist
Up to the sky, higher, for my love
I will run to you (Do I Do) my heart beats toward you (Do I Do)
I won't stop, I won't look back
I'm hot like fireworks, never let me down
I will run to the end (Do I Do) Chasing after the far away dreams (Do I Do)
I won't stop, I won't look back
Embrace my pounding heart, bravo my life
Spread the wings of your dreams so that you can fly higher
(Life, cheers, let's go, move forward)
Draw the dreams of tomorrow so you can see it bigger
(Life, cheers, let's go, move forward)