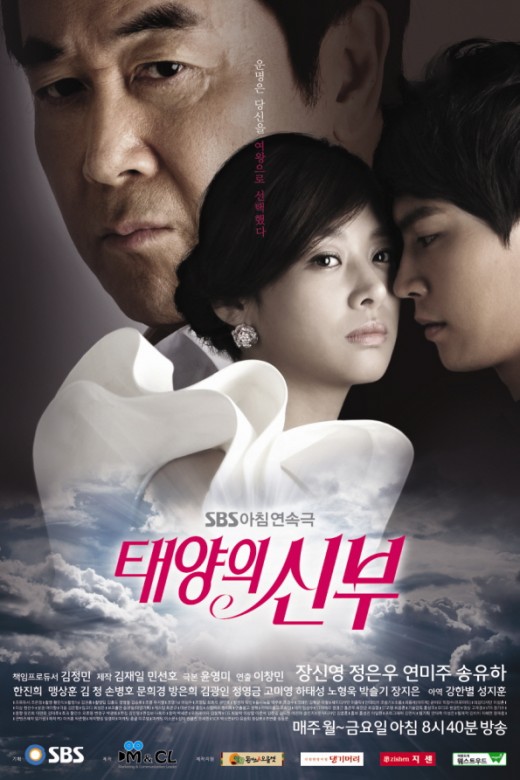 Drama Title: Bride of the Sun
Korean Title: 태양의 신부
Romanization: Taeyangui Sinbu / Tae-yang-eui Sin-boo
Chinese Title: 太阳的新娘
Japanese Title: 太陽の新婦
Genre: Drama, Romance
Episodes: 112
Broadcast Place: South Korea
Broadcast network: SBS
Broadcast period: 24th October 2011 – 30 March 2012
Language: Korean
Air time: Monday to Friday 8:40 AM
Preceded By: Miss Ajumma
Followed By: Welcome Rain to My Life
Plot Summary / Synopsis
A drama which is based on the story of former Dong Ah Constructions chairman and former KBS announcer Jang Eun-young, where the plot describes a woman gets married to a wealthy old man who is old enough to be her grandfather in order to escape from poverty when her lover leaves and her family struggle to make a living.
Cast
Jang Shin Young / Jang Sin Yeong (장신영) as Kim Hyo Won (김효원)
Jung Eun Woo (정은우) as Choi Jin Hyuk (최진혁)
Han Jin Hee (한진희) as Lee Kang Ro (이강로)
Maeng Sang Hoon (맹상훈) as Kim Hak-gyoo (김학규)
Moon Hee-kyung (문희경) as Gong Kyung-sook (공경숙)
Kim Chung (김청) as Jung In-sook (정인숙)
Yun Mi-joo (연미주) as Lee Ye Ryun (이예련)
Bang Eun-hee (방은희) as Im Mi-seon (임미선)
Song Yoo-ha (송유하) as Baek Kyeong-woo (백경우)
Son Byeong-ho (손병호) as Park Tae-ho (박태호)
Production Credits
Director: Lee Chang Min (이창민)
Screenwriter: Yoon Young Mi (윤영미)
Official Site
Official Photo Gallery
Watch online with English subtitle (not yet available).
Watch online with Chinese subtitle at letv.com, tudou.com, youku.com, qiyi.com or sohu.com.
Photo Gallery