SBS Wednesday and Thursday drama series Rooftop Prince is likely to be a "sold-out drama."
The crown prince of 300 years ago (Park Yuchun) and 3 confidants (Jung Suk Won, Lee Min Ho and Choi Woo Shik) who flown to modern times and unable to adapt to modern society is having increasing response from the audience. Especially the scene of "soju chat" of Park Yoochun and heroine Han Ji Min is so well received until the trend of sold-out begins to emerge.
On March 22nd, 2012, the episode 2 of Rooftop Prince staged a scene whether Han Ji Min consoles dejected Park Yoochun with soju coupled with butter cream, the popularity of 'butter cream spray' instantly rose until sold out in some online stores.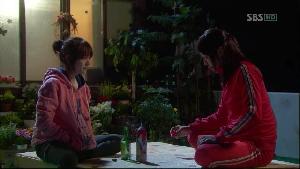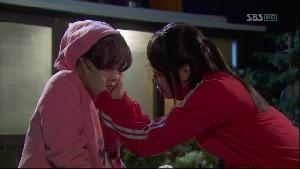 Besides, the pink sportswear wore by Han Ji Min also shown phenomenon of out of stock. The official of clothing brand NII said, "The 'butter cream t-shirt of Park Ha (Han Ji Min)' and 'rooftop heart t-shirt' that appeared in episode 2 of Rooftop Prince received overwhelming inquiry and purchase online stores and brick-and-mortar shops." He also added, "Is considering to re-order the pink t-shirt of 'Park Ha's butter cream t-shirt.'"
via Chosun