KBS 2TV's drama Dream High 2 held its production press conference on the afternoon 2 PM of January 17th, 2012 at Imperial Palace Hotel at Nonhyeon-dong, Gangnam-gu, Seoul
All the stars in Dream High 2 attended the event, including Kang Sora, Jung Jinwoon, Park Jiyeon, JB, Hyorin, Park Seo Joon, Kim Ji Soo, Yoo So Young, Jr, Ailee, Jung Yeon Joon, Kim Jung Tae, Kwon Hae Hyo, Park Kahi and etc.
The Dream High broadcast in 2011 is set against the background of Kirin Arts High School, telling the amusing story of a group of star candidate trainees. The series managed to achieve high ratings of 20%. In the repetitive call for a sequel after the original show ended, Dream High season 2 is born.
In second season, the story is centering around the competition between various idol groups.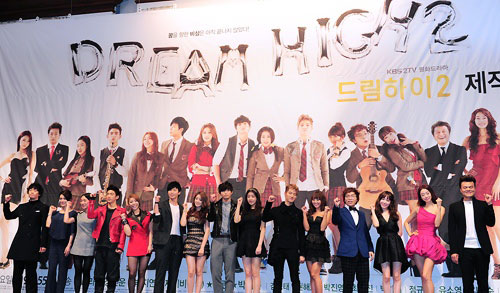 The drama features a variety of eye-catching lineup. With the exception of Park Jin Young who also appeared in the first season, the second season uses entirely new casts. Kang So Ra, Jung Jin Woon, JB and other newcomers will vividly portray the roles from top idol to weakest tuneless.
The drama also includes the contents related to special minor protection law. For example, the minor who is not a student is forbidden to perform, all entertainment activities and training must stop after 10pm, and must attend at least 20 hours of class every week.
The Production company Holym representative Jung said, "After decide to product second season, there is anticipation and also worry. Want to present rich and colorful yet unique scenes, and want to let viewers see more contents accompanying with hope and dream. Unlike the plot of season 1, season 2 has the concept of healthy and youthful."
Dream High 2 debuts January 30th, 2012.
via Joynews24