The main leading casts of Glory Jane, namely Chun Jung Myung, Park Min Young, Lee Jang Woo, Lee Jin and Choi Myung Gil was been interviewed by Sina Korea, sharing their feelings and anticipations on acting in the drama series. Here's the translated transcript of the interview.
Chun Jung Myung: Hello everybody, netizines on Sina, we're actors of Glory Jane.
All Casts: Nice to meet you.
Sina: Please introduced your own role in the drama!
Chun Jung Myung: I am Chun Jung Myung who plays Kim Young Kwang in Glory Jane.
Park Min Young: Hello everyone, I am Park Min Young who plays Yoon Jae In in Glory Jane.
Choi Myung Gil: Hello everyone, I am Choi Myung Gil who acts as mother of Young Kwang in Glory Jane.
Lee Jin: Hello everyone, I am Lee Jin who plays Cha Hong Joo in Glory Jane.
Lee Jang Woo: Hello everyone, I am Lee Jang Woo who acts as Seo In Woo in Man of Honor.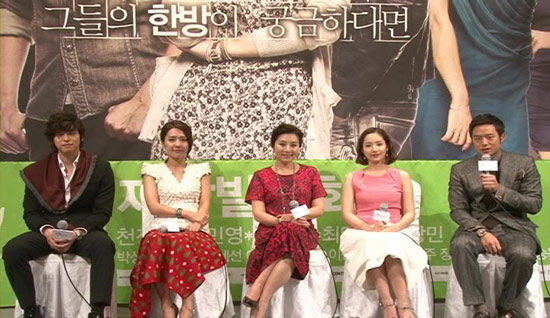 Sina: What's the reason that you accepted the offer to appear in the drama?
Chun Jung Myung: The director and screenwriter are very famous teachers, I believe the strength of two, so I chose this drama. Now shooting is done very happily, please look forward to it.
Park Min Young: I have never acted in a drama with a strong feel of family clan before. As it's the first time to act in such drama for me, so to play so it makes sense. And can also learn from many senior actors. It helps to improve my acting, and now the atmosphere when filming is also very good, I believe can complete the shooting happily.
Lee Jin: Previously I most acted in relatively quiet role, so want to try a cheerful role. The character are meant to be so cool and gorgeous that even girls can feel it. As can show such a gracious and beautiful character so would like to act, appreciate the production team to let me play the role.
Lee Jang Woo: I haven't reached the stage where I can pick the role by my own, very lucky to play this role. Because there are good directors, writers and seniors, so I will make a good show with with them. So now very happy, also happily doing the filming, very happy.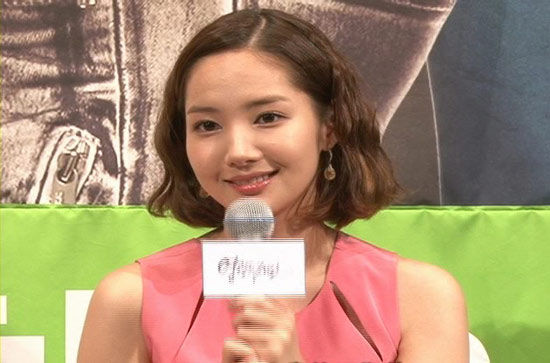 Sina: How is the atmosphere during filming?
Choi Myung Gil: Just began shooting, so we may not be too familiar with each other. Not yet shoot the scene of meeting with Jang Woo and Lee Jin, now is filming the content with Min Young and Jung Myung, still have a little nervous, because it is content of very tense relationship. We all look after each other during the shooting, it's very good atmosphere on the set. Everybody throws into acting actively when filming, so it feels good.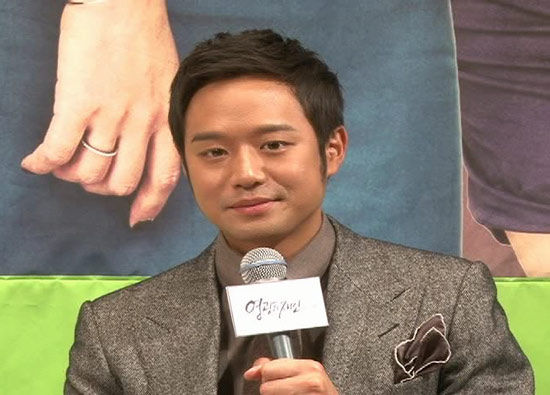 Sina: What is the more difficult parts in filming?
Park Min Young: Now there is not much hardship. Now is just start of shooting, estimated that when reaching the later part of the show there will be painstakingly hard work. I feel that now is still before the storm coming. Now is not so hard instead very happy.
Lee Jin: I have also just began shooting, still do not know hard work, only feel happiness and anticipation.
Sina: Lastly, introduce to everybody briefly about the drama.
Park Min Young: Friends who watches the TV series trailers will feel that our drama is a romantic comedy. At the same time it also has he element of baseball, there are also many contents related to sport, also is a family morale principle drama that let everybody feels affectionate of family, also has the content of revenge, as well as topics about the secrets of birth, it's a drama that combines a lot of elements into one. So it's good for young audience and older audience to sit together and watch. Our drama is not provoking, is a very mild drama, the type whole family can watch, and this is our advantage too, it's difficult to find such a drama, so I really wanted to shoot this drama. In the drama we can see the family warmth and pure love which usually ignored in daily life, I think it is drama that can o arouse human true feelings, it is worth the wait.
Park Min Young: Glory Jane is a very nice drama, and can also make you touched. Hope a lot of Chinese friends watching our drama. Thank you.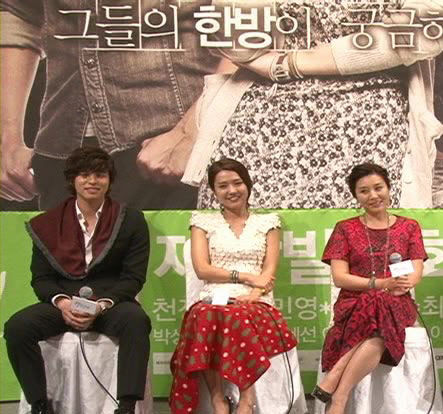 Watch the video clip of the interview with Chinese subtitle:
via Sina Korea