In the KBS2 weekday sitcom Sent from Heaven (I Need a Fairy) debuted on February 27th, 2012, the funny acting effect of Cha In Pyo that was hinted beforehand had exceeded expectations, attracting enthusiastic response, and ensured a smooth start for the drama.
On the day's broadcast, when Cha Se Joo (Cha In Pyo) heard his son Cha Kok Min whom acting is very poor wants to be an actor, he rotated a hula hoop and expressed opposition. Cha In Pyo was turning the so-called "angry hula hoop" to object to his son to become an actor, his sincere expression and tone let people cannot help laughing.
Cha In Pyo said in the drama, "The kid's acting is really bad, born as such. Cannot be an actor." The scene is quite similar to the past of Cha In Pyo, which adding to the comedy element.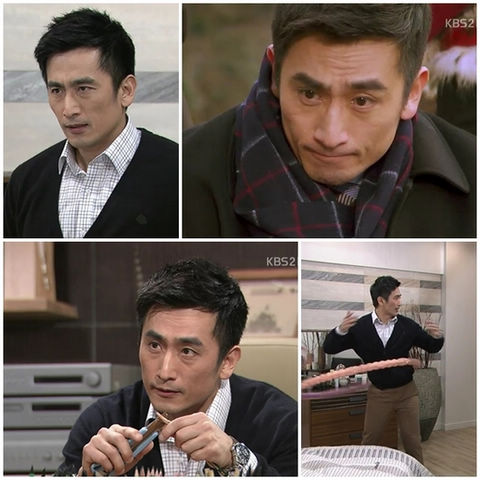 During the production press conference for the drama, Cha In Pyo used to say when introducing the character of his son in the drama, "I go to accuse others to have poor acting, isn't that very funny?" He was self-blaming, provoking laughter. The acting of Cha In Pyo in the drama series used to have caused controversy.
Through the Sent from Heaven sitcom, Cha In Pyo challenges the real comedy for the first time in 18 years since debut. Although it's premiere first episode on the day, but but the humorous acting of Cha In Pyo who has been always acted in cold and handsome roles was beyond the expectations.
After the broadcast, viewers commented, "Because of Cha In Pyo, I laughed till my stomach hurts," "I never thought it's so funny," "Although the scene was also very funny, but Cha In Pyo's expression was even funnier" and so on, constantly praised the comedic acting of Cha In Pyo.
via Osen