According to Korea's Asia Economic Times, the SBS Wednesday and Thursday drama Protect the Boss is extended for two more episodes due to explosion in popularity, and the lead actress Choi Kang Hee, through playing the role of Nol Eun Sul, has showed her acting skills on various fields of acting including comedy, romantic melodrama, action show and etc, has been highly praised by viewers.
Choi Kang Ji said, "Nol Eunsul is the character which I felt the most difficult to act so far, it's very complex to interpret, and requires a fine acting. Protect the Boss drama itself is a hodgepodge, it has funny elements, but is also a romantic love drama, in addition there are also a lot of content related to business operations, so the background of filming keeps changing, and it's very tiring for the actors as it requires high degree of concentration."
Initially, Protect the Boss contains a lot of comedy elements, became a viewing hot spot. Recently, with the romantic relationship between Nol Eun-sul and Cha Ji Hun (played by Ji Sung) is full swing, the tone of the story plot has became sedated. In this regard, Choi Kang Hee said: "This is no choice. Plot follows the perspective of Nol Eun Sul, so the change of atmosphere is inevitable. But with the increase in the scenes related to business operations, the plot will have more tension and become more intense, and it will definitely be more interesting."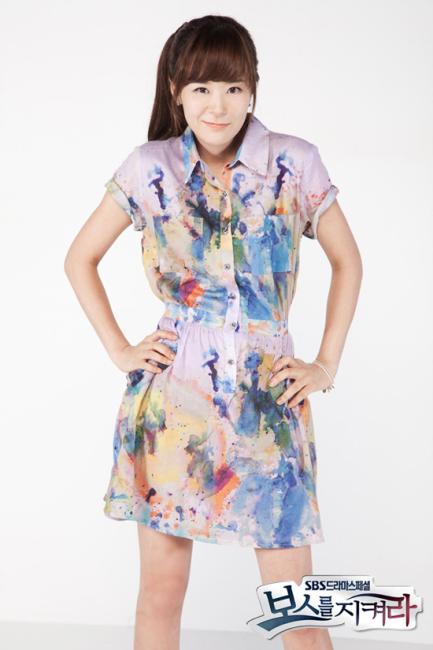 People who earns the minimum wage in South Korea and works for eight hours a day, with income of roughly 880,000 Korean won (about USD $750) a month is called "88 generation." And the Nol Eun Sul who is portrayed by Choi Kang Hee is the typical representative of "88 generation." Unlike sweetheart role normally seen in romantic-genre drama, Nol Eun Sul gone through the hardship to apply for job, and overcame obstacles in life to grow stronger. This role which is close to reality in society is resonating with audience, and hence has earned good ratings results.
Choi Gang Hee admitted that her past experience has helped on the interpretation of the character of Nol Eun Sul. "My family owed a huge debt, I only have my own savings until I shot My Sweet Seoul City in 2008. Before that, all my income had been used to repay the debt. Although I did not face the sorriness of Eun Sul in employment, but I fully understand the fact that earning money is not easy. The moment after debt is cleared is really relaxed, but I occasionally still nostalgic about the days of hardship. People can have unlimited energy when they have a desire.
Unknown since when, "four dimensional thinking" has become synonymous with Choi Kang Hee, always not play the card according to common sense, live in her won unique spiritual world has became another charm of Ganghee. In this regard, Choi Kanghee said: "More of the roles I played is more extreme. When younger, I was mostly approached to act in behaved and gentle roles, now mostly is roles that rather unique. People usually says I am four-dimensional thinking, and seems to be for this reason I get more opportunities, like the role of Nol Eun Sul this time, occasionally will use her fists, and even conduct a backroom deal with company boss."
Through the "Protect the Boss" drama, the acting skills of Choi Kang Hee is critically acclaimed, but she modestly said: "Now I still work hard, after the end of broadcast of drama, I will come back to re-examine my own performance."
via asiae.co.kr