In Glory Jane, Choi Myung Gil and Park Min Young are displaying scene of close hand fighting.
On the third episode of Glory Jane aired on October 19, 2011, Choi Myung Gil and Park Min Young are in anger after been provoked by usury who was chasing for repayment, and is showing unconventional fighting scene that involved "hair pulling, face slapping" and more.
In the drama, Choi Myung Gil bumps into Park Min Young who hit the usury until he ran away, and the vegetable in her basket is knocked over, and this causes her to become furious. For Choi Myung Gil who is frugal, the vegetable bought with high price is as expensive as gold.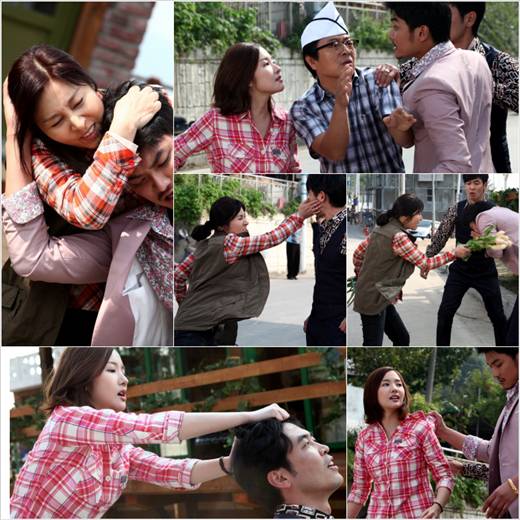 As such Choi Myung Gil dashes forward to the usury without hesitation, launches the attack, and resorted to "slap the face, strongly lock the throat, pull the cheek" and other very rough means. Park Min Young and Choi Myung Gil then congenially pull the hair of usury, and start the realistic close hand battle.
The production team said, "Through Glory Jane, Choi Myung Gil displays the side the break with conventional. For the scene that some actresses may feel is a burden, Choi Myung Gil and Park Min Young are putting all the effort to act and interpret."
via Nate