In the episode 14 of Glory Jane (Man of Honor / Young Love Jae In) broadcast on November 24th, 2011, Chun Jung Myung is pulling Park Min Young with one hand, and even hugs Park Min Young and gently caresses her hair.
In the previous episode 13, Chun Jung Myung finally gets to know that Park Min Young is not his half-sister. And the true feeling of Chun Jung Myung to Park Min Young will explode for the first time, presented in front of viewers through intense hugging, and attracting wide attention from the viewers.
This set of scenes was shot and completed on November 20th, 2011 in Songdo, Incheon. During the filming process, the expression of Chun Jung Myung and Park Min Young is full of light lingering affection, yet revealed a slight nervous. The delicate and vivid emotional display of Chun Jung Myung after knowing the real identity of Park Min Young is very important part of the drama, and this time Chun Jung Myung was showing very naturing acting. The whole process was completed successfully in just one time.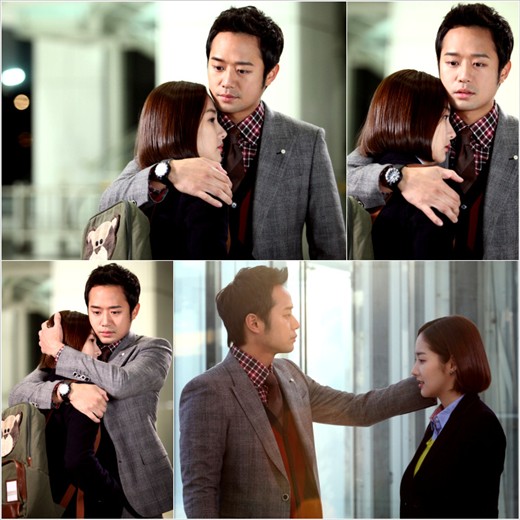 In particular, Chun Jung Myung who needed to continue to suppress the feelings towards Park Min Young and to evade love, is pulling Park Min Young with single hand, and hugs Park Min Young tightly, fully shows his "magic man" charm. Chun Jung Myung who hugs Park Min Young with all his strength is presenting all the deep love for Park Min Young. The warm embrace by Chun Jung Myung that is revealing all feelings, indicates that the fiery love story between them is about to start.
The producer Kim Jong Hak Production said, This is a scene which has more revelation of love after Chun Jung Myung knew the background of Park Min Young. Chun Jung Myung is portraying the inner heart of Kim Young Kwang perfectly. Hope that viewers can continue to look forward to the love story between Chun Jung Myung and Park Min Young that is starting soon."
via TVReport