In the episode 12 of Glory Jane (Young Love Jae In) broadcast on November 17th, 2011, Chun Jung Myung and Park Min Young are as if to prove that their deepening love, demonstrating an obscure dating scene of knee pillow.
Chun Jung Myung has a feeling of love for Park Min Young, but is at a loss due to relationship of half-siblings. The set of scenes shows Chun Jung Myung who wants to hide his feeling of love to Park Min Young, but eventually falls asleep on the knee of Park Min Young as pillow.
In these scenes, the drunken Kim Young Kwang (played by Chun Jung Myung) is unable to suppress his love of Yoon Jae In, approaching Jane as if wanting to kiss, but at this time "one millimeter love line" scene of "like kiss but no kiss" of them is really making the viewers choked up with emotions.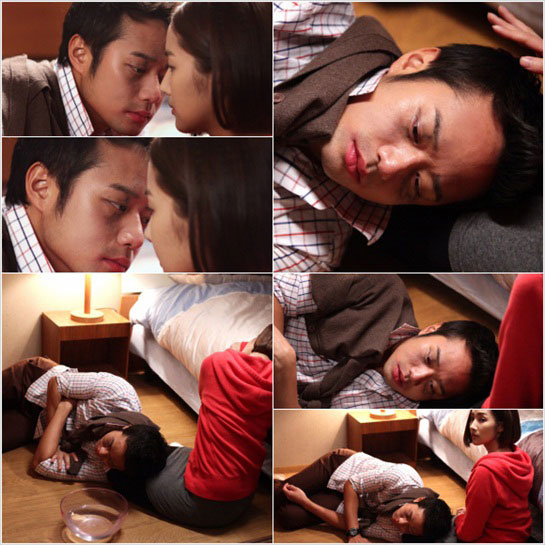 The scenes was shot in Anseong city of Gyeonggi-do province. Chun Jung Myung and Park Min Young had to complete the scene in a very serious environment. Chun Jung Myung whose love to Park Min Young is growing deeper but could not tell the truth, and Park Min Young whom has known about the true heart of Chun Jung Myung, had to display moving expression in one's eyes that different from previously in the scene. Because the scene will become a major turning point for future development of relation between them, so Chun Jung Myung and Park Min Young both very serious and went into shooting passionately.
Especially during the shooting, both of them were showing naturally the heart wrenching love that cannot be accomplished between half brother and sister. When Chun Jung Myung pillowed on the knew of Park Min Young carefully, the whole scene suddenly plunged into an atmosphere of ambiguity, to the extent that the staff crews were all held their breadth, the venue turned silent immediately.
And in order to shoot the scene, Chun Jung Myung who is the atmosphere maker at the filming scene, had became reticent before the shooting started, completely immersed into the atmosphere of the story, showing a very professional side. The tacit understanding between Chun Jung Myung and Park Min Young has became more close after 3 months of filming, causing the ambiguous and heart wrenching atmosphere on the scene to be even warmer.
The producer said, "Chun Jung Myung and Park Min Young have to hide the even deeper love to each other, and so their love story will be even more sad and touching. And how the love of the two persons going to develop, please continue to look forward to future story."
via Nate