Chun Jung Myung and Park Min Young are enjoying the sweet "fish market dating" in Glory Jane.
On the episode 9 of Glory Jane broadcast on November 9th, 2011, Chun Jung Myung and Park Min Young are enjoying a special dating in the fish market, the subtle atmosphere between the gradually is gradually shown, and the unknown feeling towards each other continue to deepen.
The scene was shot in a fish market in Seoul Gangseo-gu on November 6th, 2011. Chun Jung Myung and Park Min Young were purchasing seafood at the same time dating with a slightly exciting heart, fully enjoyed the fish market dating of "killing two birds with one stone." When Chun Jung Myung was catching the fresh live crab with bare hand, Park Min Young was sounding "Oh.. oh.." with novelty, cheered up Chun Jung Myung, the look of them was causing the filming scene full of laughter. On every gap between filming, Chun Jung Myung was pointing to the sea animals inside the tank to explain to Park Min Young in detailed, showing the amiable side.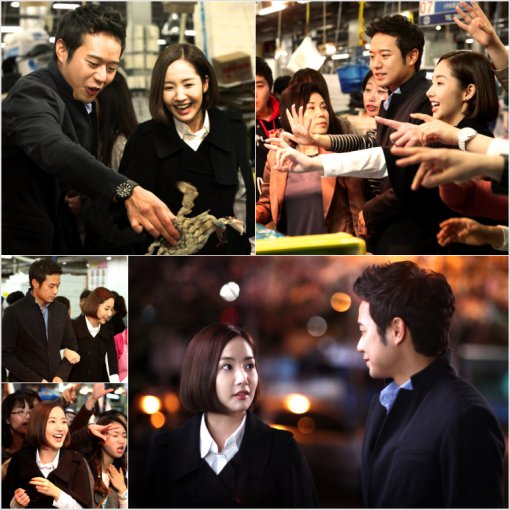 Especially when shooting Park Min Young gently rolled up the arm of Chun Jung Myung, as both of them has became more familiar and closer during filming, instead they had constantly NG. Every time Park Min Young rolled up the Chun Jung Myung's arm, he would slightly exposed an embarassing expression, but both persons still completed the scene smoothly by relying on excellent tacit understanding.
In addition, because the shooting was at a fish market, as the result there would be unexpected episodes, such as Chun Jung Myung and Pu Min Young were unfortunately hit by the "ink" shot by squid when picking squid and etc. And even though the shooting was at night, but in order to see Chun Jung Myung and Park Min Young up close, the fish market was drawing huge crowds, which also caused the interruption of shooting for a time.
The producer said, "With the fish market dating as an opportunity, Chun Jung Myung and Park Min Young will start a romantic love story which is sweet and cute. The story will fully demonstrate the innocent feeling between lover who just started. As for whether the two persons will continue to happy, please look forward to future story with even more ups and downs."
On the other hand, episode 9 has revealed the mysterious relationship between the father of Chun Jung Myung and Lee Moon Shik.
via Nate