Chun Jung Myung expressed his thoughts after the end of the airing of premiere first episode of KBS's TV series Glory Jane. In Glory Jane, which also known as Glory Jaein or Man or Honor, Chung Jung Myung plays the role of secondary baseball player Kim Young Kwang, who knows nothing other than baseball, yet believes that he won't lose to anybody else. He declared that he didn't use stand-in and was in situation with unlimited will to fight.
In the first episode, Chung Jung Myung uses his sweet innocent smile and natural face to engage in tension duel of fate with Lee Jang Woo (plays the role of Seo In Woo) whom has been his opponent since you, successfully and perfectly portrayed image of baseball player Kim Young Kwang and triggered large amount of positive responses.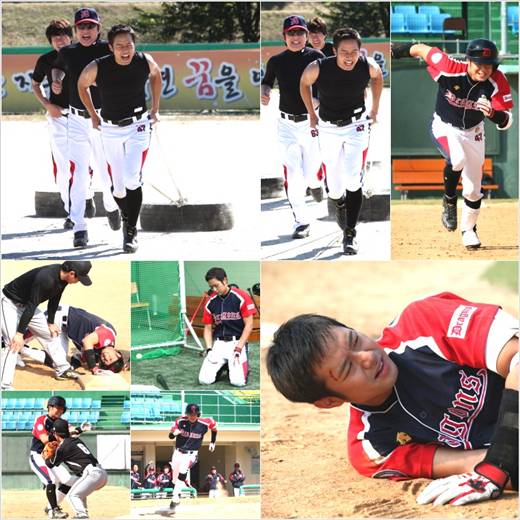 The scene where Chung Jung Myung was looking like he is actually paying baseball is particularly well liked. To shoot the scene, Chung Jung Myung fractured his finger's bone, but Chung Jung Myung endured the pain of finger's bone fracture to continue filming, showing his passion.
In addition, Chung Jung Myung did not depend on stand-in replacement actor to perform in the scene of baseball practicing session or actual baseball game, bring out the character of Kim Young Kwang which is truthful. Chung Jung Myung who wants to have some achievement through Glory Jane is really fully committed himself in acting, emitting glory of fighting spirit.
Chung Jung Myung said, "I prefer character of Kim Young Kwang to any other characters that I acted in so far. He is so much similar to me. Very love family, easily cool down and become happy after angry are all also similar. Through the character of Kim Young Kwang, I hope to demonstrate a me that is different from previously, so I will give all effort to perform."
He added, "The image of Kim Young Kwang depicted in episode 1 is not his whole. Through overcoming obstacles and hardships, Kim Young Kwang will stand up again to the victory of his life, showing his side of growth. The contest of Chung Jung Myung in reality and Kim Young Kwang in drama is just staring," strongly showed his ambition.
via bntnews