Among the dialog lines in the drama series The Moon Embracing the Sun, the most impressive line which chosen by Han Ga In is the line of Lee Hwon (Kim Soo Hyun), attracting everyone's attention.
On February 18th, 2012 in the MBC Theme Park at Yangju city, Han Ga In gave an interview for MBC official website. In the interview, when asked about the most impressive line, Han Ga In said that the line of "you want me to forget you, sorry, I want to forget but can't forget" during the childhood period of Lee Hwon was making her getting goose bumps when watching. As for the lines of adult Lee Hwon, because the wonderful lines are too many, so every time she can only sighs. But if really have to select one line, then Han Ga In selected "don't come near, but also don't stay away" as her favorite. Han Ga In continued to say that the impressive lines of Hwon are too many, so it's difficult to choose just one.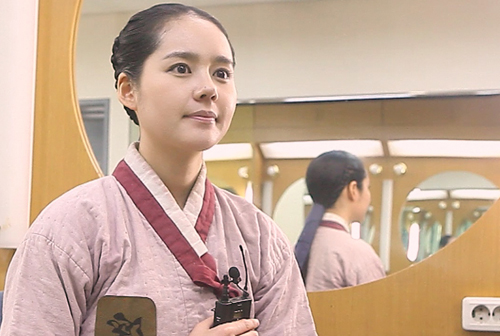 In addition, on the day's interview, in regard to all heroes including the minister is attracted by the charm of Wol, Ga In said that when she saw the scene, she could not help but laughed, and expressed deep gratitude to everybody.
via MBC