Kang Min Hyuk who is holding an umbrella in the spring rain kisses Oh Yeon Seo. The two persons are playing the role of Cha Se Kwang and Bang Mal Sook in KBS weekend drama "My Husband Got a Family", and the kiss scene was shot on April 3rd, 2012.
In the scene filmed on the day, Yeon Seo is upset that she caused Min Hyuk injured and angry, but she received the kiss and console from Min Hyuk instead. The first kiss of two persons on screen is perfectly portrayed, raising the expectation to the drama. On the other hand, the member of CNBlue which Min Hyuk belongs to, Jung Yong Hwa, Lee Jong Hyun and Lee Jung Shin suddenly paid a visit, and stayed until the end of filming.
An official of management agency for Oh Yeon Seo, Wellmade STARM, said, "Oh Yeon Seo was nervous because of filming the kiss scene with the most popular CN Blue's Kang Min Hyuk. Because she likes it so only felt slightly burdened, and can successfully entered the shooting."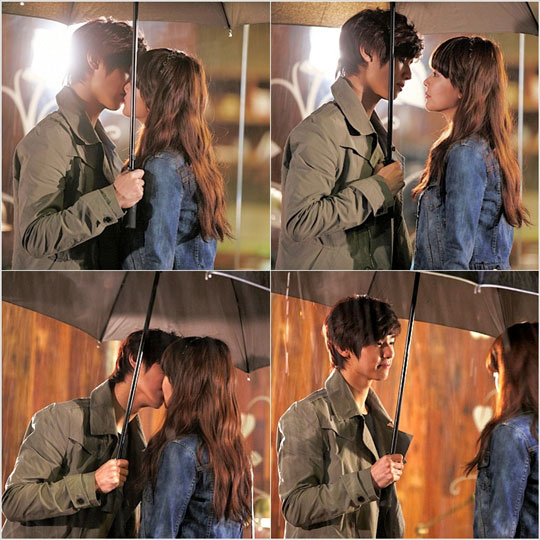 The management agency of Kang Min Hyuk, FNC Music, said, "Kang Min Hyuk has starred in several TV series and movies, but the kiss scene is the first time. Though not shy, but he was tension nonetheless. But he had the help of members from the side, and constantly learned from the guidance of acting teacher, so he can shot naturally."
"My Husband Got a Family" airs every Saturday and Sunday at 7:55pm.
via Osen