Actress Han Ga In eliminates the worry for "Yeon Woo," and the audience is full sense of anticipation to the next episode of The Moon Embracing the Sun (The Sun and the Moon).
On the episode 6 of The Moon that Embraces the Sun broadcast on January 19th, 2012, the adult actors officially took over from the young actors. And the most intense debut was of actress Han Ga In, the expression without a word has attracted attention.
The debut of Han Ga In which successfully dispel the worry, gave the impression that she is the most important role and full of artistic. Han Ga In is showing the innocent and dignified charisma with her lively acting, and the mysterious atmosphere has gradually surfaced.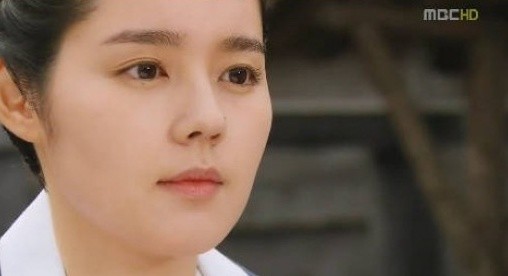 Han Ga In successfully takes over from young actress Kim Yoo Jung. The feeling in the drama is very similar to Kim Yoo Jung. She is the only adult actor who performs with such an artistic sense similar to child actor. Kim Yoo Jung and Han Ga In, are continuing the Yeon Woo and Wol.
At the same time, the performance of the male actors can also be looking forward to. In the initial stage, Kim Soo Hyun and Jung Il Woo are suffering from great pressure. They're been accused of having difficulty in extending the emotional scenes of child actors, and did not display on screen the best romance acting.
An official of The Moon that Embraces the Sun said, "Actually, with the exception of Han Ga In, others are unpredictable, because Han Ga In has the feel of Wol (Moon)," expressing satisfaction on Han Ga In. Han Ga In said, "There is a lot of worries previously, and because of this I was very nervous, will work harder in future."
The debut of Han Ga In ushers in the reversal in plot of The Moon that Embraces the Sun, but it's just the beginning of conspiracy and revenge. On the other hand, the ratings of the day is 29.3% (AGB Nielsen media research national average), setting a historical highest ratings record.
via Dispatch