The behind the scene photos in shooting scene of Glory Jane has been made public.
Lee Jin who off the screen for 2 years, and recently returns via the KBS 2TV's Glory Jane has accumulated a lot of expectations. In drama, she plays a role with a straightforward cool personality and loves fashion, and successfully and perfectly changes into a fashionable driveway girl, attracted the attention of all people in shooting venue.
Although Lee Jin started shooting from early morning on her first day of shooting, but she always sitting there with smile and took the initiative to say hello or chat with passing staff crews. The easy-going and free and easy charm made ​​her the "popular girl" in the filming set.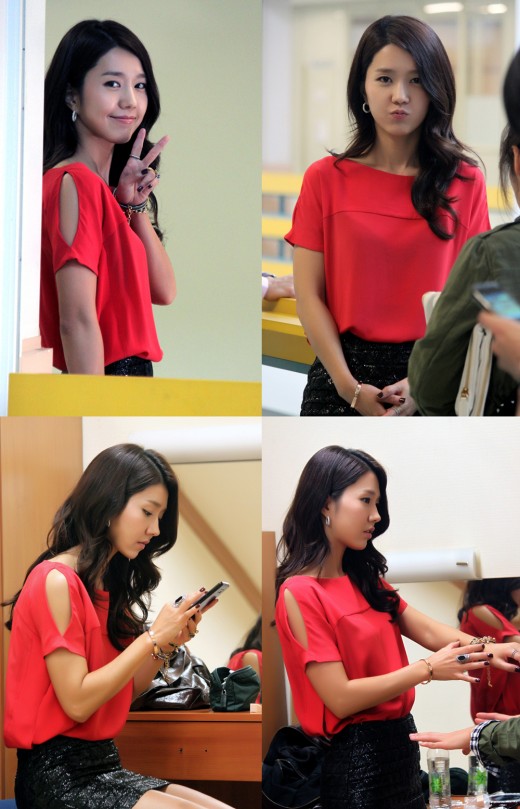 In the photo, Lee Jin posed to the camera with V hand sign or pout her mouth to make a cute face while waiting for her filming. She also watched the mobile phone in the standby room, and carefully checked every part of her including a small accessories in order to show her best after a long wait.
The netizens who watched the photos left messages said that, "Lee Jin's beauty is outstanding," "really is the originator of fairy," "want to see Lee Jin quickly in TV series," "looking forward to the magnanimous and stylish image of Lee Jin," and etc, showing the hot reaction of netizens.
On the other hand, Lee Jin s expected to start appearing from Glory Jane episode 4 aired on October 20th, primarily have opponent plays with Park Min Young, Chung Jung Myung, Lee Jang Woo and Lee Moon Shik.
via jkn.ko.kr