The Park Min Young who was in the midst of filming, was attracting public's attention with her eyes which look like crescent when laughing.
In the episode 9 broadcast on November 9th, 2011, the filming venue of Glory Jane (Man of Honor) was moved to a fish market in Gangseo-gu of Seoul to film a series of scenes where Chun Jung Myung and Park Min Young were purchasing squids to make "squid mix" dish. And the behind the scene photos of the shooting scene is enough to attract eyeballs. In the photos, Park Min Young was relying on her crescent-like eyes in her smile and vibrant charms, demonstrating her unparalleled changes in the expression of acting.
On the filming on November 6th, 2011 at a fish market at Gangseo-gu of Seoul, Park Min Young was touching live crab and squid with bare hand. Sometimes she was marveled, sometimes laughed again and again, revealing the charm of innocent and happy, caused even the fish sellers at the scene to immerse into the atmosphere.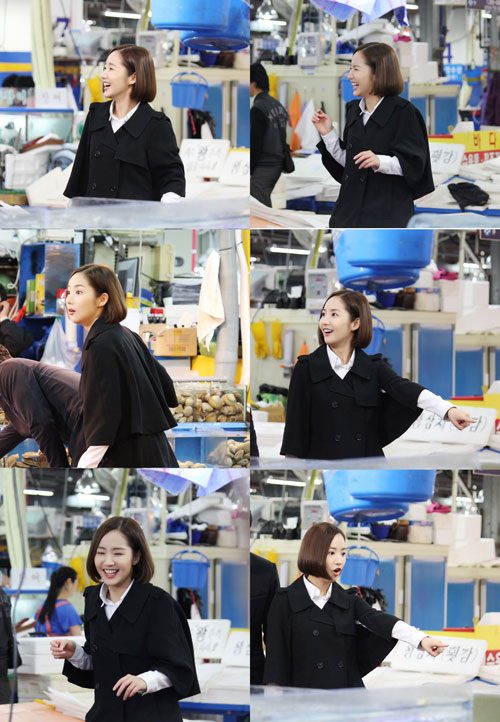 In particular, there was an unexpected situation when Park Min Young was selecting squid, as she was unfortunately hit by the ink "raided" by the squid, but the look for her which was surprise yet happy drew laughter from the audience.
Park Min Young who is acting the role of Yoon Jae In in Glory Jane recently, had previously demonstrated her sobbing acting skill that moved the audience and the expression in eyes that showed unyielding effort during adversity, and this time, she even brought acting skill that is sunny and looks lively and lovely. The solid acting skill that been accumulated from previous works is really amazing.
via Chosun