The photos of Korean actress Park Min Young was using towel to cover he face in order to avoid the sunlight has been published, and has attracted the public's attention.
The photos were taken on the rooftop of a high-rise building in Seoul on October 30th, 2011, at the filming set for KBS2TV's Glory Jane.
In the exposed photos, Park Min Young used a variety of tricks to escape from the sun. Sometimes she covered the entire face completely with towel, sometimes she covered the towel on her head, and the looks of her was really cute.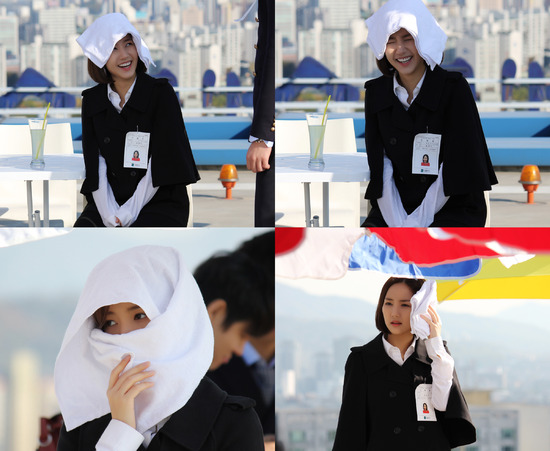 On the shooting venue, Park Min Young is just like the "absolutely positive girl" Yoon Jae In, the character she played in the drama, perfectly acted as the "atmosphere-maker" role with her happy and vibrant image.
In the upcoming episodes of Glory Jane, Jae In agrees to be private nurse of In Woo, and even agrees the request of In Woo to participate in interview of Great Trading Company. Viewers are looking forward to how Jae In is going to complete the first question set by Heo Young Do.
via Osen