The diversified acting of Kim Soo Hyun in the MBC TV Wednesday and Thursday drama The Moon that Embraces the Sun is attracting attention of audience.
Lee Hwon who is in royal progress in plain cloth said, "Nobody would think that a king of a country will looks like me." But him who he is getting around the country does not get to see the real life of the citizens, while bathing at night, he said "not satisfactory" and at the same time intentionally jokes to let the guard Woon to bath together with him, revealing his sexy charm in the bucket. When he sees citizens are suffering from oppression by government officers, he unable to restrain his anger and loudly reprimand, showing the style of the king. Finally he says with a smile to Bo Kyung who tried to shake his position through Queen Dowager Yoon and family clan, "I don't like hypocrisy and insincerity." And looking at the Wol who is resembling with Yeon Woo, Lee Hwon asks her with sorrowful eyes if she has seen him before. At this time, he is no longer a majesty king but just a man in the passion of love.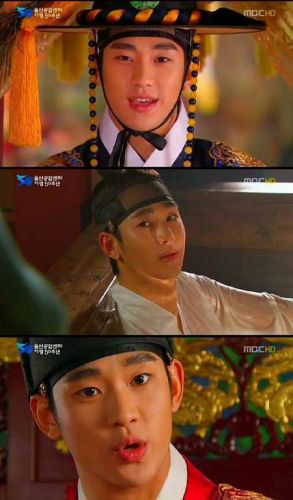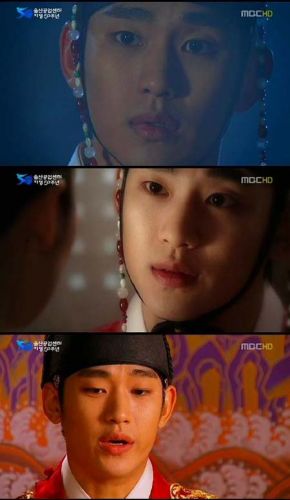 The ever changing acting skill of Kim Soo Hyun in the drama has attracted the attention of the viewers. Many viewers commented with praises, "The all new image of king," "I can completely immerse into the drama because of the Kim Soo Hyun's acting," "Although the young Yeo Jin Goo is good, but the king Kim Soo Hyun very handsome," and so on.