The 16 actors and actresses who are leading the KBS2 TV teenage drama Dream High 2 has been revealed on the morning of January 15th, 2012, together with a new poster featuring all 16 cast members.
The main cast members who appear in the poster included Kirin Arts High School students Kang So Ra, 2AM's Jung Jinwoon, T-ara's Park Jiyeon, SISTAR's Hyorin, JB, Park Seo Joon, Yoo So Young, Kim Ji Soo, Ailee, Jr, and Jung Yeon Joo, and Kirin Arts High School teachers J.Y.Park, Kim Jung Tae, Kwon Tae Hyo, Choi Yeo Jin, and After School's Park Kahi.
The production team also revealed some new characters and their roles, including absurb Park Soon Dong (Yoo So Young) who believes can communicate with ghost, poet Park Hong Joo (Kim Ji Soo) who is perfect in every way except for his face, Ailee as another member of HershE, JB, saxophone player Jung Wi Bong (Jr) who is also the dancing partner of JB and Yi Seul (Jung Yeon Joo) who is Lee Kang Chul's daughter, raising the expectation of viewers.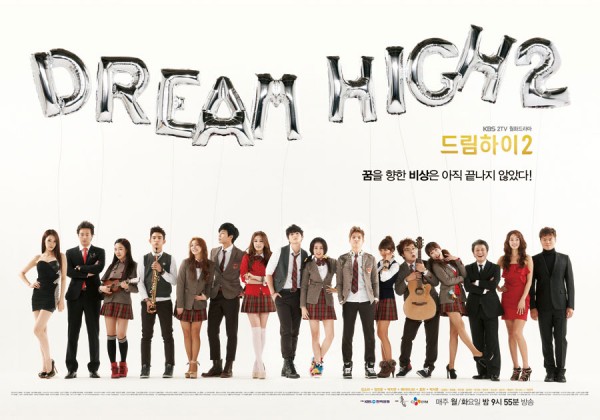 Besides, the 5 teachers included Yang Jin Man (Park Jin Young or JYPark), Joo Jung Wan (Kwon Hae Hyo), Lee Kang Chul (Kim Jung Tae) who is the president of Oz Entertainment and Kirin Arts High School, vocal instructor and housemaster Kim Tae Yeon (Choi Yeo Jin), and dance teacher Hyun Ji Soo (Park Kahi).
Dream High 2 debut on January 30th, 2012.