The new KBS2 Monday and Tuesday drama series Dream High 2 officially debuted on January 30th, 2012. The day's content mainly centers around the description of the background for the lead characters in the drama.
The popular figure from the last season, Kim Soo Hyun, appeared in the first scene, staging a kiss scene with Ryan (Park Jiyeon). Subsequently the sudden appearance of IU also attracted the audience's attention. Then, the magnificent stage of lead actors Jiyeon, Ailee, Park Seo Joon and JB also came into spotlight.
The lead actors of the drama, 2AM's Jung Jinwoon, Superstar K2's Kim Ji Soo, Ailee, JB, After School's Kahi, Jr and others are idol stars who do not have experience in acting. Before the TV series is broadcast, many audience is worrying if they can actually perform the role. However, Jung Jin Woon who acts for the first time is an unexpected surprise, his acting is stable and full of tension, does not look like a newcomer in slightest degree.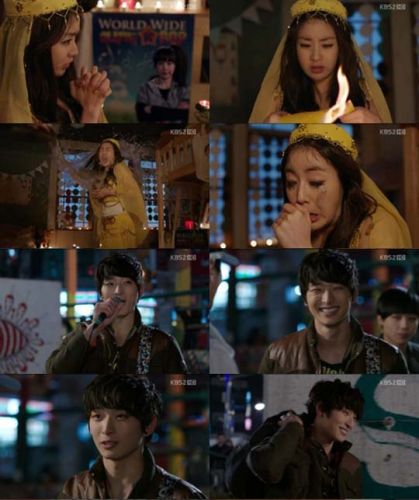 Besides, Park Jiyeon who used to appear in many project also vividly portrayed her character. And the only character that also appeared in prequel season 1 of Dream High, teacher Yang Jin Man (Park Jin Young) is also receiving positive response for his steady acting. Park Jin Young who is good in humor served as the laughing stock in the drama, bringing a lot of surprises for the audience.
After the premiere of Dream High 2, the responses of audience are divided into two camps. Many people expresses satisfaction to the new drama, has confident on the acting of idol stars, and is very much looking forward to the performance of Park Jin Young. But another group of audience is comparing the new drama with the season 1, deeming that the new drama is "too many characters, don't know who is who," "the impression left by the prior drama is too deep," "the setting of the characters are too exaggerated" and so on.
Indeed, Dream High 2 has added a lot of roles than the first season, other than lead roles, the supporting roles also added a lot of supporting characters with distinctive characteristics. Moreover, what kind of love triangle Yang Jin Man, dance teaching Hyun Ji Soo (Park Kahi) and music teacher Kim Tae Yeon (Kim Tae Yeon) will stage is also arousing audience's curiosity.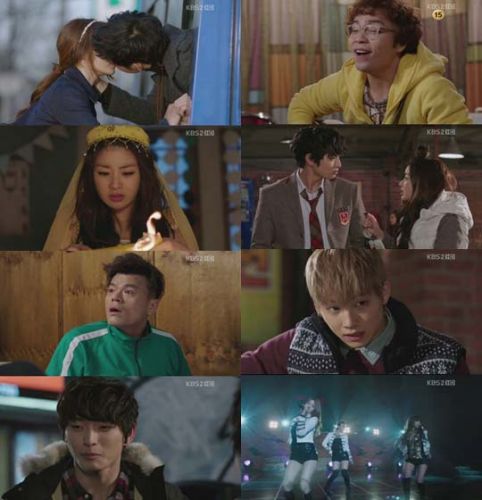 Let's wait and see what kind of new story will be used by the Dream High 2 which gathers even more idol stars to attract viewers, and whether it will surpass its prequel.
via TVDaily