Japanese adult magazine published the obscene article about Kara member Goo Hara, stirring controversy. Currently, the management agency DSP Entertainment is discussing on the options of response.
On the morning of May 14th, 2012, DSP Entertainment said, "Is discussing with management agency of Kara in Japan, University Japan. Will discuss with Japanese management agency to explore if the relevant text is of malicious intent, and then decide on the appropriate action to deal with it."
Recently, the photo of Goo Hara which was published on May edition of Japanese adult magazine "Gold EX" was published on Korean websites, together with text article, causing a controversy. The photo deliberately focused and zoomed on the hem of Goo Hara's skirt, and accompanied by rather sensational title of 'legs that are full of pheromone," "completely erotic photo" and so on.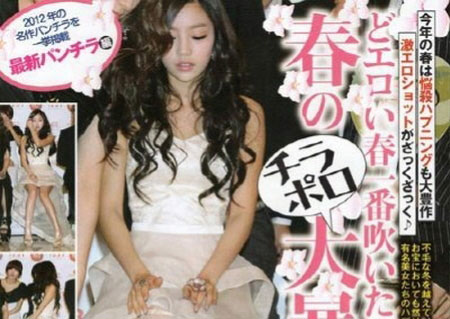 It is reported that the magazine had been publishing sensational reports for Hallyu stars previously.
Netizens have said that the management company should come forward to prosecute them, expressed their anger.
via Joongang Daily