According to AGB Nielson media research company, MBC TV series The King 2 Hearts broadcast on March 21st, 2012 recorded the national average ratings of 16.2%, overwhelmed the rivals.
In analysis by region, Seoul metropolitan area recorded the rating of 18.8%, the highest rating of all regions, followed by Seoul (15.2%), Busan (13%), Daejeon (11.8%), Gwangju (11.2%), Daegu / Gumi (11%) in such order.
For the category of age and sex, the group of women over 40 years old occupied 16%, and is the highest share of the viewers. In addition, womens over 50 years old and women over 30 years old occupied 13% and 12% respectively, following behind. It can be confirmed that female viewers form a big part of audience.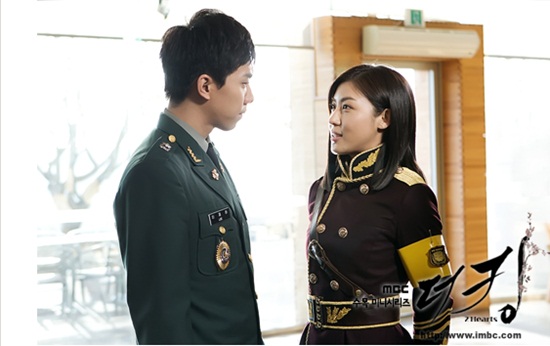 The King 2 Hearts has been one of the highly anticipated dramas before the broadcast as it's starring by Lee Seung Gi and Ha Ji Won, and produced by Beethoven Virus PD Lee Jae Kyu and screenwriter Hong Jin Ah. In fact, the charismatic characters and unusual encounter of Lee Seung Gi and Ha Ji Won has won praises.