The member of T-ara pop girl group, Ham Eunjung, broke her knee after falling on the snowfield, and according to the diagnosis, the injury requires six weeks to heal.
Ham Eun Jung is currently starring in JTBC's Queen Insoo, raising doubt to her filming in the drama.
On January 25th, 2012, the agency of Eunjung, Core Contents Media (CCM) said that on 11:50 pm on the night of January 24th, 2012, Eunjung fell down and hurt her left knee when about to reach home after complete the choreograph of Lovey-Dovey. When Eun Jung is injured, it's snowing, and the sub-zero temperature had even made the road icy.
The agency of Eunjung said, "Eunjung was immediately sent to the hospital's emergency room for X-ray after injured, and received emergency treatment. The next day, she ligament went back to the hospital again for a detailed inspection. The test result showed that ligament of the left knee's bones were broken, so the recovery takes 6 weeks. When dealing with injury inside the knee, there was hematocele in the joint, so a minor surgery is required. The 30 ml of blood accumulated need to be taken out via syringe several times. And there is also need to go to the hospital several times for minor surgery on the join."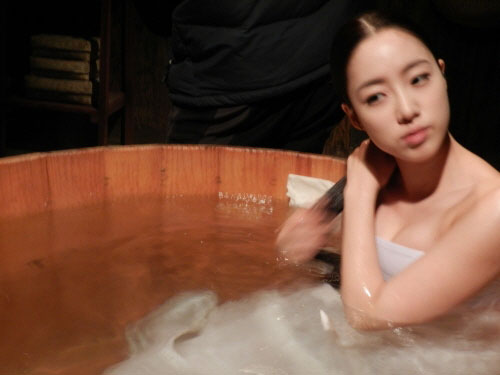 Currently, the leg of Eunjung from the knee to the bottom has been applied with plaster cast.
The official added, "Although the filming of Queen Insoo will be adjusted according to the recovery of Eunjung, but the filming schedule that remains about 10 days is worrying. And we're discussing the method of participation with the production team."
Ham Eunjung has been canceling her appearance with the T-ara group to concentrate on completing the shooting of Quuen Insoo.
This is the third time Eunjung suffers injury on her left leg. On December 31st, 2011, Eunjung injured her left ankle in 2011 MBC Gayo Dajaejun, while on December 2010, she also fell down on snowfield, hurting the left knee, and at that time the leg was plaster casted for 2 weeks.