The birthday cake of Han Ga In attracted attention.
The MBC variety show A Good Day broadcast on March 6th, 2012 specially paid a visit to the set of MBC drama The Moon that Embraces the Sun. The day happened to be the birthday of the Han Ga In, Kim Soo Hyun and Jung Il Woo were busy to give Han Ga In surprise.
The birthday cake for Han Ga In on the day was made based on the model of Heo Yeon Woo who is playing by Han Ga In in the drama.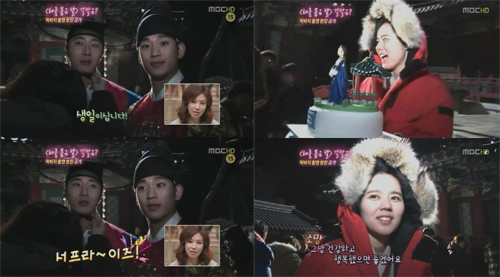 Jung Il Woo said, "Although it's very hard when shooting but still have to celebrate the birthday."
Han Ga In was happy holding the specially made birthday day, while Kim Soo Hyun and Jung Il Woo also specially sang the birthday song for Han Ga In. The trio has forged a good friendship through drama.