Actor Park Min Woo, MBLAQ's Lee Jun, Heo Young Saeng, and B1A4's CNU Shin Woo are known as the F4 of comedy circle, triggering a heated discussion.
Park Min Woo, Lee Jun, Heo Young Saeng, and CNU Shin Woo who are currently starring in KBS2 daily sitcom "I Need a Fairy" (Sent From Heaven) are giving the feeling of warmness with their smile. The gang of flower handsome boys of Park Min Woo whose height is 188cm and dimple gives a deep impression, MBLAQ's Lee Jun, B1A4's Shin Woo and Heo Young Saeng who is engaging in solo activities are showing charming smile that touches the hearts of female viewers.
In the recently released stills of the four persons from the filming scene, they showed shining charm. In the TV series, Park Min Woo and Lee Jun has the relationship as senior and junior trainee in H2 Entertainment Company. In the photos, their sunny smiles attracted attention.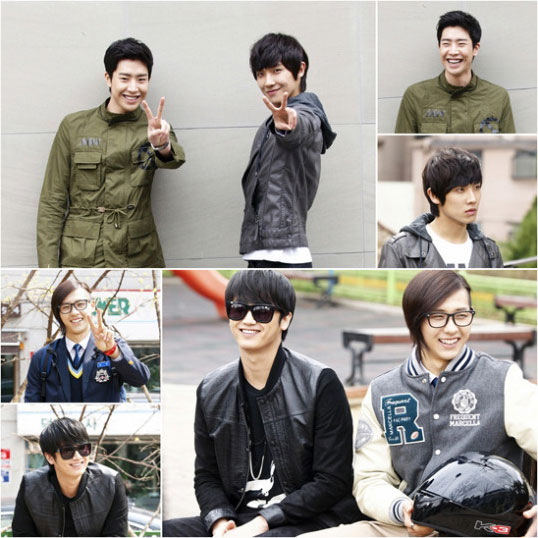 On the other hand, Heo Young Saeng and Shin Woo who have delicate relationship with Na Ra (Woo Ri) posed a 'idol pose' which itself exuding warm sheen.
Park Min Woo, Lee Jun, Heo Young Saeng, and Shin Woo of "I Need a Fairly" are very pleasant and harmonious, well like by the staff crews.
In this regard, fairy Wang Mu (Shim Hye Jin) and H2 Entertainment Company CEO (Cha In Pyo) continue to stage bizarre and full of conflict anecdotes. The drama is aired every Monday to Friday afternoon at 7:45pm.