Actress Kang Sora was celebrating her birthday, and the fans were also preparing beef offal soup for her.
Kang So Ra who is currently shooting the KBS TV series Dream High 2 was celebrating her 22nd birthday on February 18th, 2012. In order to celebrate the birthday of Kang So Ra, and also for the shooting to continue smoothly, fans came to the shooting set, hung a banner, treated all of the crews to the warm offal soup. The atmosphere on the set was very warm, the excited Kang So Ra also took pictures in front of banner happily.
Kang Sora said, "Thank you very much everyone. Staffs enjoyed it, I'm even more happy. This kind of birthday celebration is meaningful."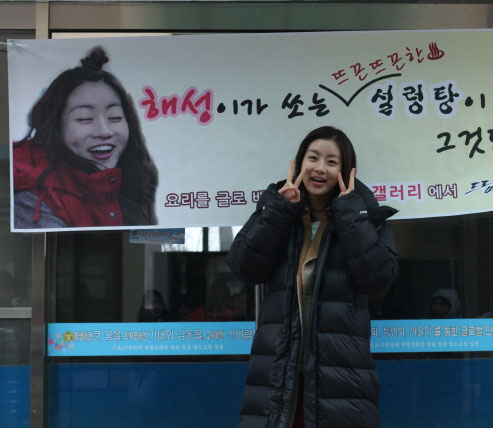 In the cold winter, TV series is still having outdoor shooting, the actors and crews are very suffering, in order to take care of everyone's body, the fans of Kang So Ra sent a thoughtful gift of warm offal soup. All the actors and crews also expressed that they will strive to shoot, using good drama to repay the attention given by everyone.