The fashionable "strange interview group" was born! In Glory Jane (Man of Honor), Lee Moon Shik and Lee Jin transformed into a shiny couple with sunglasses for the shocking examination to join the company.
In episode 7 of Glory Jane broadcast on November 2nd, 2011, Lee Moon Shik and Lee Jin will appear as fashion trend-spotter who self-luminous, and personally conduct the new employee examination for Great Trading Company. And under the bright yellow umbrella just like what always seen in holidaying places, they're unique interviewers who wore sunglasses and drink fruit juices when waiting the job applicants.
Lee Jin who appeared as "driveway girl" in Glory Jane is appearing with prettier image. Combed a tiny hair, wore luxury but elegant coat, while applied with red lipstick, Lee Jin is emitting a "reverse image."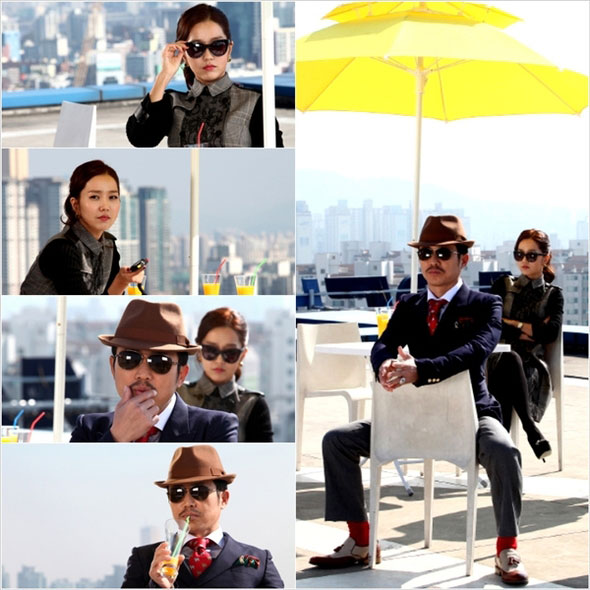 During the filming that taken place on October 30th, 2011 at a building in Mullae-dong of Yeongdeungpo-gu district in Seoul, the unique fashion feel of Lee Moon Shik and Lee Jin has made the atmosphere of the set to become hot. Although it's a high-intensity shooting which started from 10 am to sunset, but the fall weather was ideal for shooting.
Lee Moon Shik and Lee Jin were sitting under the umbrella commonly found in places for summer vacation, the sneaky look of them gave a sense of realistic.
But in order to film the scene of drinking fruit juice with straw while waiting for job applicants, almost 1.5 liters of fruit juice was been drunk. Especially the setting for Lee Moon Shik who was required to empty the fruit juice inside the cup, so he was suffering more than others. After each NG, Lee Moon Shik complained, "Fruit juice, have to drink again, gone case," attracting the laughter on the scene.
The producer said, "The realistic acting and perfect acting of Lee Moon Shik and Lee Jin have injected fresh vitality into Glory Jane," and he conveyed that, "From fashion to unique acting, the change of two persons who played the charismatic roles perfectly is going to continue, please look forward to it."
In addition, in 7th episode, Chun Jung Myung, Park Min Young and Lee Jang Woo gather together for the entry exam and start an interesting story. In the end who is admitted has also increased everyone's expectations.
via Nate