The hilarious spoofing by 2PM members imitating the scenes in The Moon that Embraces the Sun provoked laughter.
On the afternoon of April 1st, 2012, 2PM held a fan meeting with the title of "2PM's The Hottest Party" at the Peach Hall of Kyung Hee University in Seoul.
On the day's fan meeting, 2PM spoofed the plot of the popular drama series The Moon that Embraces the Sun, attracting laughter from fans.
In the spoof, Junsu turned into the king, while Wooyoung played Yeon Woo, appearing disguising in woman's dress. The two persons performed the interesting lines of The Moon that Embraces the Sun to fans.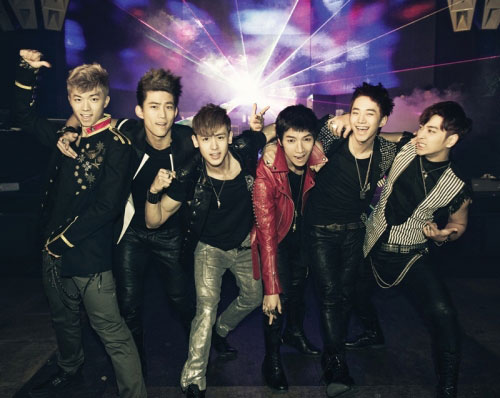 Nichkhun transformed in crown princess, performing fully the expression of furious jealousy and foolishness, and the plot of consummation with Junsu provoked fans to laughter.
Besides, Taecyeon played the role of eunuch Hyung Sun, Chansung played the role of female shaman Jang and guard Woon, and Junho played the role of Prince Yang Myung who passed away, earning the fans' laughter.