KBS 2TV's Glory Jane (Man of Honor) that is currently airing was originally assigned to the classification and time slot that are suitable for viewers aged 15 and above. But on December 14th, 2011, the broadcast of episode 19 was suddenly tagged with 19 rating, indicating the show only suitable for viewers aged 19 and above, making many viewers curious and further increased the ratings. The reason for the sudden change to 19 certification is because of extra long kiss scene between Park Min Young and Lee Jang Woo.
The TV rating committee with checks particularly vigorous recently has made major TV series to nervous, and pay attention to the influence of the broadcasting plot. As the plot of soon ending KBS2TV Wednesday and Thursday drama series Glory Jane involved the revenge by Park Min Young against Son Chang Min, and emerged the scenes of face slapping, poison tongue, and sensitive social phenomena, production team began to consider to correct the viewing rating certification in order to reduce the adverse effects on young people, and on the broadcast on December 14th, 2011, production team decisively changed to the level watchable only for viewers of 19 years old and above.
The KBS 2TV official said, "KBS internal review meeting held meeting to discuss before the long kiss scene was aired, and eventually decided to set certification of 19 years old and above to view the episode, because the kiss scene is longer than any other episodes, the has deeper level of influence comparing with earlier violent scenes and poison tongue and etc. in the drama."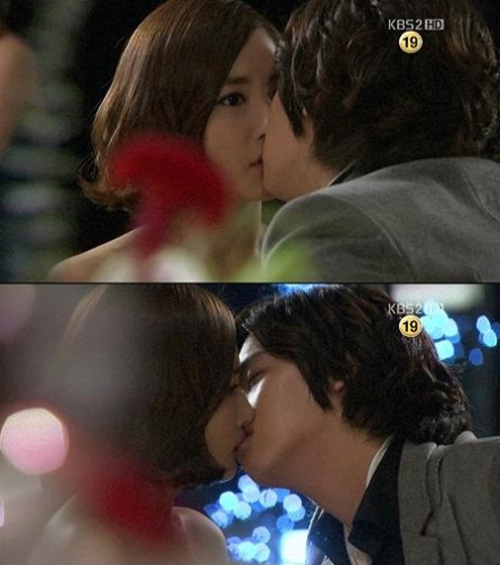 The housewives who normally watch the TV together with children showed great concern and worry about the 19 certification, and on the Internet, people had engaged in intense discussion on whether the drama is worth of 19 certification.
The questions from netizens were getting more and more, many people said, "Undoubtedly can be watched by anyone above 15 years old, why today changed to 19 years old? Because of too many kiss scene?" "Is it because of Jae In's mother stabbed the arm of Seo Jae Myung? Or simply because TV station made a mistake? Feel very uncertain," "Not much violent or sexual scenes at all," and so on.
But perhaps because of the change had led to curiousity among more viewers, the rating of 19th episode of Glory Jane increased to 14.6%, slightly higher than the highest ratings record set earlier, ranked second among the drama aired at the same time slot. Deep Rooted Tree continued to rank first with 21.9% rating, which MBC's I'm Flower Too rated only 6.1%.