The still photos of South and North warriors who gather together to participate in WOC (World Officers Congress) and dressed in unified uniform in MBC's The King 2hearts were made public.
In the photos, 6 persons wore the same khaki shirt and black pant, watching to the front and saluting. The comrades in the photos gave exuding a harmonious atmosphere.
In addition, the lead actors of the drama in the photo also attracted everyone's attention. Ha Ji Won and Lee Seung Gi look almost no different from real soldier.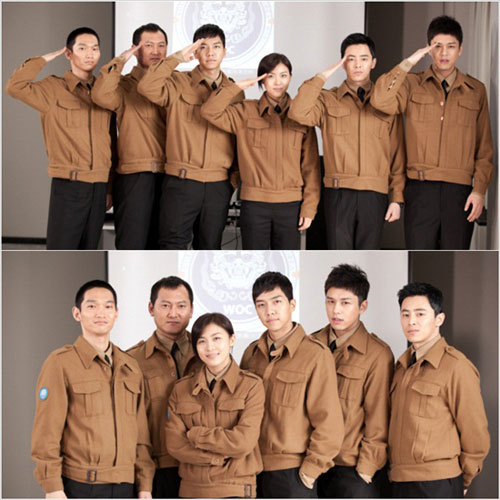 The photos were the commemorative photoshot taken on March 7th, 2012 on the shooting scene of Gangwon-do. After the end of filming, director suggested everyone to take photography together with the uniform as memento. Although it's an ad-hoc suggestion, but the 6 actors took the shot naturally, and everyone looked so happy.