In The King 2 Hearts, Ha Ji Won (age 34) immerses in the adoration for Rain (age 30), Kang Dong Won (age 31), Jo In Sung and Hyung Bin (age 30).
On episode 1 of MBC's The King 2 Hearts broadcast on March 21st, 2012, Kim Hang Ah (played by Ha Jin Won) goes to Seoul of South Korea to participate in World Officers Congress (WOC).
On the day's broadcast, as the only female military officer sent by North Korea, Ha Ji Won saw the billboard featuring Rain while in the bus on the way to training ground. She explains to colleagues, "This man named Jung Ji Hoon, is world renowned hot dance singer, now he enlists in the armed forces as private, equivalent to our new recruit."
Later, she saw the Kang Dong Won and Jo In Sung on other electronic billboards, and said, "Kang Dong Won is also currently serving the people, Jo In Sung is in active duty in the air force, may be he will train with us," the words are full of expectations, but when she recalls that Jo In Sung has discharged from military service in 2011, she can't help but feels disappointed.
However, when she saw Hyun Bin on the next billboard, she immediately regains her smiling face, and said, "And there is Hyun Bin. He joined the army just a year ago. Although is not an officer, but is not a nobody too. I think we have a great chance to train together with him."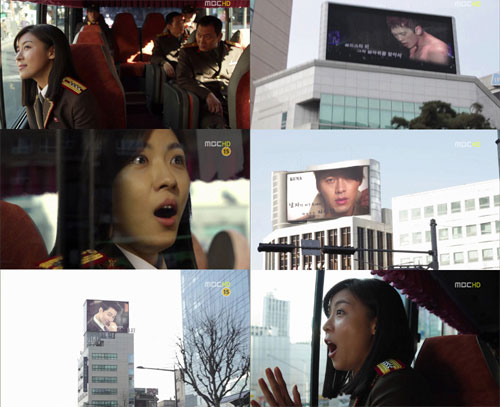 When the colleague pointed out that "it's a little useless for only care about these," she explained, "I'm notjust look at their faces. Aren't their military power strong too?"
Thinking of the impending marriage after participating in WOC, she thinks, "Hope that he can looks like them," and then shows a smile with full of expectations and satisfaction.
Rain, Kang Dong Won, Jo In Sung, and Hyun Bin have used to cooperate with Ha Ji Won through MV, movie or TV series, and their appearance brings unexpected effects to The King 2 Hearts, making it more and more interesting.