Ha Ji Won is performing the dance of Bo Peep Bo Peep by T-ara in MBC TV drama series The King 2 Hearts episode 8 broadcast on April 12th, 2012. Ha Ji Won used to perfectly interpret the singing of North Korean song in episode 2, winning the praise from audience.
In the drama, Ha Ji Won will dance cutely to the tune of the song of T-ara, Bo Peep Bo Peep. Ha Ji Won who is showing awe-inspiring qualities by playing the role of North Korean female instructor in the drama, will perfectly reproduce the lively and lovely Hang Ah version of Bo Peep Bo Peep, demonstrating a unique charm.
In order to perfectly perform the dance of Bo Peep Bo Peep, Ha Ji Won learned the dance from the team leader Jun Hong Bok of T-ara's choreography team despite her busy schedule. Although the duration is very short, but Ha Ji Won is very talented in dance, and she learned very fast, surprising and delighting Jun Hong Bok. However, the filming duration for the scene was very shot, but she wholeheartedly learned and performed the lovely and lively dance, demonstrating her passion and commitment to work.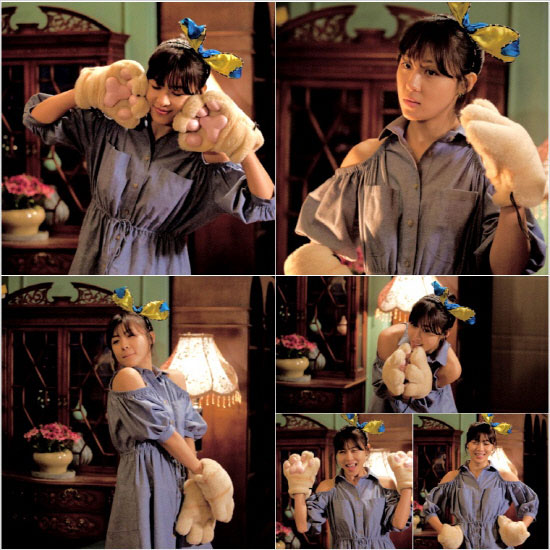 The scene was shot on April 1st, 2012 on The King 2 Hearts set at Ansong, Gyeonggi-do. Ha Ji Won transformed into T-ara. She wore a cute hairpin on the head, gloves with catlike wearing a cute card issuing, hands wear gloves with of cat's paw, and showcased the cute lively dance. The dance of Bo Peep Bo Peep performed by Ha Ji Won is full of hip dance whic his full spoiled temperament, making the atmosphere on the scene very active.
The crews on the scene watched the dance move of Ha Ji Won, and said, "The dance of Ha Ji Won is very cute," "I heard that the learning time was very short, but she danced great." As Ha Ji Won has to portray the role who doesn't know how to dance and poor in body's flexibility, triggering a burst out laughing.
Producer Kim Jong Hak Production said, "Due to tight shooting schedule, will definitely get tired, but Ha Ji Won has always been maintaining a cheerful expression, encouraging the staff crews. In order to perfectly interpret the dance of Bo Peep Bo Peed that appears just for a short while, she directly invited the choreographer of T-ara to practice, trained day and night, winning admiration. Ha Ji Won is full of enthusiasm for the drama The King 2 Hearts, thus will complete a more exciting drama."
In addition, in the episode 7 and episode 8 of The King 2 Hearts that are aired back to back on April 12th, 2012, there will be story full of impact, and the curiosity for the relationship of Ha Ji Won and Lee Seung Gi is also heightened.
via Nate