Ha Ji Won revealed the behind the scene story of the 'neck kiss' with Lee Seung Gi in The King 2 Hearts.
On April 3rd, 2012, Ha Ji Won appeared in KBS variety show Win Win as a guest star, and told the behind the scene story when filming kiss scene with Lee Seung Gi, Jo In Sung and other actors.
When talking about the 'neck kiss' with Lee Seung Gi, MC Lee Su Geun asked jokingly, "The kiss scene was done perfectly, right?" Ha Ji Won answered, "I was quite indifferent. Lee Seung Gi was reading the script wrongly. It supposed to be 'sit beside Hang Ah who is lying around and kiss her neck,' but Lee Seung Gi was lying behind me when shooting. The director was shocked, immediately pull out Lee Seung Gi." The statement provoked the scene to laughter.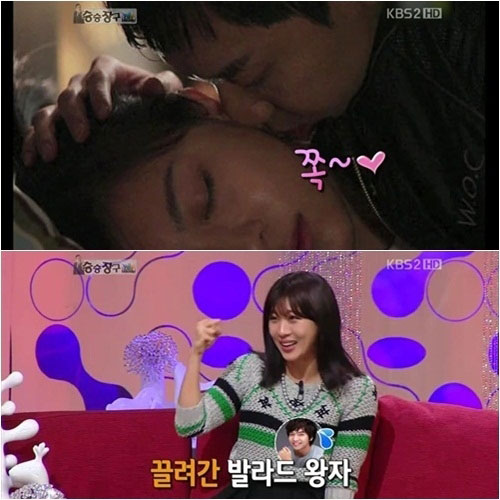 When choosing the most demanding kiss, Ha Ji Won chose the kiss scene with Zo In Sung in Something Happened in Bali. She explained, "When kissing together, should be more shy, but the scene at that time was he wants to kiss me forcefully, and I have to keep resisting. As the result, we were too into it, the actions were overdid, my teeth was almost fell."
The viewership rating for the Win Win at the day is 8.1% on national average.
via bntnews