Round clear eyes burning with ambition to power, although grows with a snow white beautiful face, but the words are unbridled and uninhibited.
"I am the type of people who will feel depressed if I don't speak out something I want to say," bringing a look of declaring war on future husband, causing people can't help but think that, "ah, this woman is untouchable."
Ham Eun Jung (23 years old) is the actress who plays the role of young Queen Insoo in JTBC weekend historical drama series "Queen Insoo." Her bright face reveals the sense of existence of the role. With her distinct facial features and perfect voice, interpreting the charm of the role, and does not interpret it as the image which blinded by power.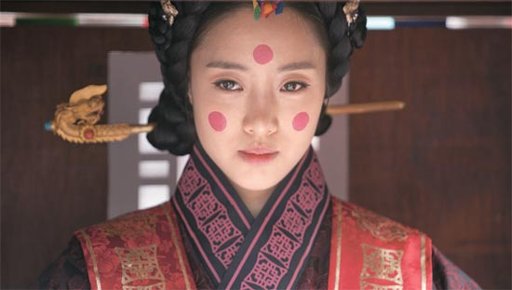 On December 5th, 2011, Miss Ham was interviewed by reporters through phone. As a member of T-ara idol droup, she has recently released a new song "Cry Cry," and is busied with activities between South Korea and Japan. Although can only sleep for three to four hours a day but the voices heard over the phone was still fresh and clear.
She would suddenly said, "Have you watched the show yesterday? The line of 'Husband, please turns off the light' could be put it better," and chuckled. In the drama, at the night of marrying with son of Grand Prince Suyang, Prince Dowon (Baek Sung Hyun), she nervously told husband, "Turns off the light."
Miss Ham happily said, "Although the lines are short, but contains a lot of things. Deliberately used an ambiguous voice to act, but found that it's hard," "This is the line that reflects the active characters of Queen Insoo, very interesting."
– Besides "turn off the light," what other lines that left deep impression?
"There is another line that asked, 'How is Prince Dowon wants to save the world?' Prince Dowon and Queen Insoo are different, he does not have much ambition, for Prince Dowon, this is considered the beginning of prince course."
– What's the similarities between Eun Jung and Queen Insoo who controls her own destiny?
"Director used to say before filming, 'Eun Jung, just act according to the real you.' Speak her mind, target is very clear, personality is stubborn, all these is very similar. But has to exclude the spoiled aspect to husband." (Laughs)
Because always appear with the image of idol star, so the experience of Ham Eun Jung looks not enough, but actually, she is a "backbone actress" who started acting since 8 years old. Since her debut in 2009 as a singer, she has been formally challenged the role of adult, used to star in drama series "Coffee House," "Dream High," and movie "White: Melody of Death" and so on, and has also starred in 3 historical dramas. In SBS's 2004 drama series "Toji, the Land," she played a youth role, and recently starred in "King Geunchogo."
– Should be no stranger to acting in historical drama, right?
"Indeed so, but because there is no historical records on the youth of Queen Insoo, so when performing the role there is no restrain at all. Because it's a role of female that is rebellious during the era, so I want to modernize the lines, although there is criticism that it's not matched with the background of historical drama, but that's the image of the role I want to portray."
– When saying "Let me be your princess" to Grand Prince Suyang, the expression in your eyes is very different?
"With the development of drama, I will play a decisive woman role that helps Grand Prince Suyang, takes proper care of family, resists external forces and protects the family, not a naive ignorant girl."
Ham Eun Jung said, "In order to play the roles like a fool, suffered a lot." She used to fall down during horse riding, causing many scars, and also used to climb to a high tree to resist her father. But she enjoyed the experience.
"If the Queen is goal of Queen Insoo, then my goal is to try my best to play the role of Queen Insoo well. Please believe me and please be patient to wait and see."