The bold challenge of Han Ga In has bright prospect for the future.
As her look too westernized, Han Ga In has been focused on modern drama since debuting in 2002, and has never acted in a historical drama. Through MBC's The Moon that Embraces the Sun, Han Ga In is challenging sageuk for the first time. Other than theme, Han Ga In is playing the role in the drama that is completely different from her previous image. In her previous dramas, Han Ga In always starred as indifferent city woman or innocent girl, but in this drama, Han Ga In is playing the role of a crown princess who is reduced to a female shaman after losing her memory, the character is full of mystery, and charming.
For this transformation, most of the viewers have been affirmative. Most of the viewers thinks that Han Ga In who always shows her capable and innocent image in commercials and works chooses a new path this time, and the acting embarks on a new level, and by just considering this courageousness, it's enough to get applause.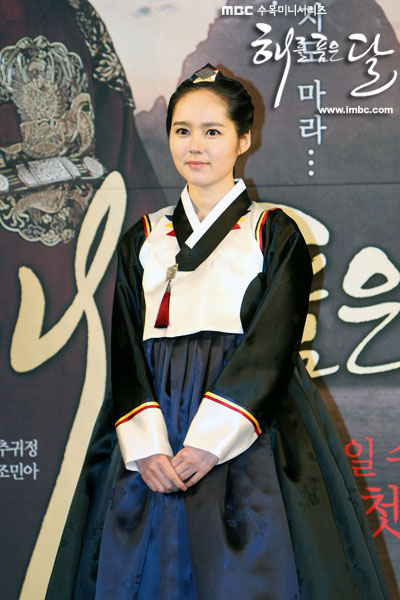 People evaluated that Han Ga In successfully overcame the "appearance" problem. Before the drama is aired, there were a lot of people worried that her facial features do not suitable to act in historical drama, but after her debut in the drama on January 25th, 2012, audience said that "her watery big eyes perfect portray the emotion of grief of the character in the drama."
Even though there is a lot of praises, Han Ga In still faces many challenges, the first is question about acting. In future plot development, in the theme that she challenges for the first time, can Han Ga In brings into play her acting skill to perfectly interpret the role will become the key for the drama.
Han Ga In agency said, "Han Ga In has many scenes in the drama, she is busy with practicing the script everyday, everyday can sleep for just 1 hour. This is the first time she challenges sageuk, and coupled with the prior excellent performance by the child actors, so the pressure is great. She is determined to put up a better performance, working hard every day, hope everybody pays attention to her performance with goodwill."
via Joongang Daily