Actress Han Ga In is arousing the desire of Hwon (Kim Soo Hyun) and Yang Myung (Jung Il Woo) in The Moon Embracing the Sun.
In episode 12 of MBC drama The Moon Embracing the Sun (TMETS) broadcast on February 9th, 2012, Hwon grips on Wol, and said, "Who permitted you to leave without permission? Who is the one saying to soothe the pain in my heart? Before the confusion in my heart is calmed down, you cannot leave me."
The only clue that can unlock the mystery of the cause for death of Yeon Woo, ex-eunuch Shim San suddenly committed suicide, causing Lee Hwon to blame himself. While go out for a walk with Wol, Hwon confides to her his own painful feelings.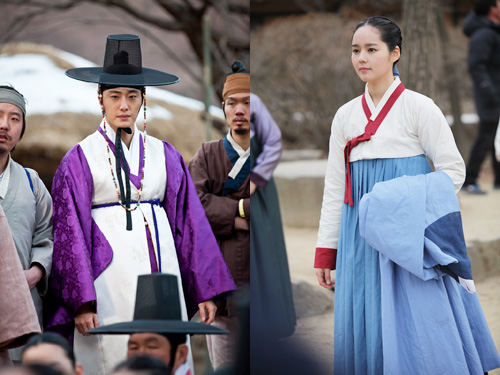 Wol who also becomes sad due to pain and suffering of Hwon solaces, "This is not the fault of Your Majesty. The heart of Your Majesty to protect and care, they are able to appreciate. So, please do not blame yourself. Your Majesty will reveal the truth in the end with your keen intelligence and excellent judgment."
Hearing the words of Wol, Hwon is very grateful, "It's a long time have not heard the console that is so warm."
And Yang Myung confesses to Wol, "Telling me to want me to put down the painful person in my heart, you're the first," the words of Wol gave great comfort to Yang Myung.
With such a Wol who heals their inner suffering and pain, is letting Hwon and Yang Myung falling into even deeper love. The audience's attention has been concentrated on the love of two men, and other conflicts that will emerge soon.
After the broadcast, the audience said in the message board, "The capability of Wol to heal the wound is at the level of god. Is the highest standard healing girl," "Wol is still a concept girl yesterday, today becomes a healing girl? Pay money during the date, and also heal the heartache," "The charm of Wol that attracts two men, turns out to be healing," and so on.
via Chosun