Han Ga In refused to use a stand-in substitute to shoot the interrogation with torture scene, wholeheartedly played the role, and almost in a collapsed state after finished shooting.
In episode 13 of MBC drama series The Moon that Embraces the Sun broadcast on February 15th, 2012, the marriage consummation of Hwon (Kim Soo Hyun) and Bo Kyung (Kim Min Seo) failed as the king fainted. Wol is framed as committing the sin, and is brought to interrogate with torture.
Han Ga In refused to use a stand-in substitute during the filming on the chuguk (soccer) field on February 12th, 2012, personally acting in the scene of been bounded by instruments of torture, and as such she was exhausted and almost collapsed after the shooting.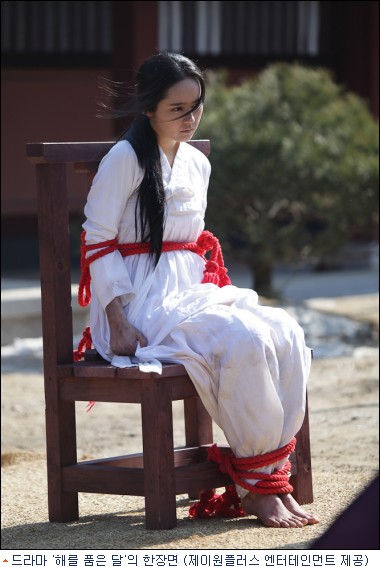 The management agency said, "Because having to perform the scene of tortured interrogation for a long time, in order to minimize the impact on Han Ga In, the action of actor who executes the beating was very careful. But under the sub-zero temperature, barefoot and little white clothing, the shooting was done until the dark, so it's really very difficult for Han Ga In physically."
But Han Ga In had been concentrating on the filming, wholeheartedly portrayed the tough image of Wol, winning the praise and applause from the crews. A relevant official said, "In order to let the actor who was playing the role of beating her comfortable, she smiled and even encouraged him."
The ratings of the episode 13 broadcast on the day is 38.4% according to AGB Nielson, ranked first among all programs at the same time slot.
via Yahoo!