Han Ga In who played the role of Heo Yeon Woo in recently concluded The Moon that Embraces the Sun appeared on the shooting scene of Running Man.
The Running Man which is broadcasting on March 25th, 2012 has the theme of "Running Man – Searching for First Love." The show is combining romance and reasoning through the method of game that comes back and forth between past and present, unfolding in the style of romance and fantasy.
The actors of SBS' Bungeoppang will be playing the adolescence period in Running Man.
In the youth period played by Bungeoppang's actors, each of them has the shadow of own first love. The 7 people of Running Man and Han Ga In who got amnesia are unable to recall the memory of the past, and needs to find back their own first love through the young actors.
In particular, Han Ga In who is guest starring was going all out to roll on the grass, and wore a comfortable clothing in order to be able to run in full force. She was participating in the game passionately and sincerely, making the atmosphere of the scene even more harmonious.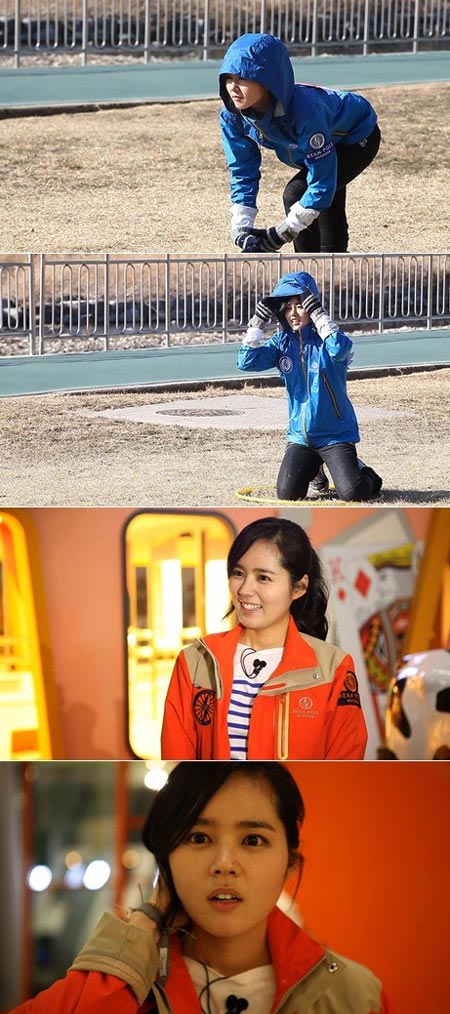 The fan of Han Ga In, Kim Jong Kook, praised, "I have been liking her, but unexpectedly she is so passionate and sincere, don't I have to like her even more?" And shouted, "Yeon Woo ah…" proving that he is really the enthusiast fan of Han Ga In.